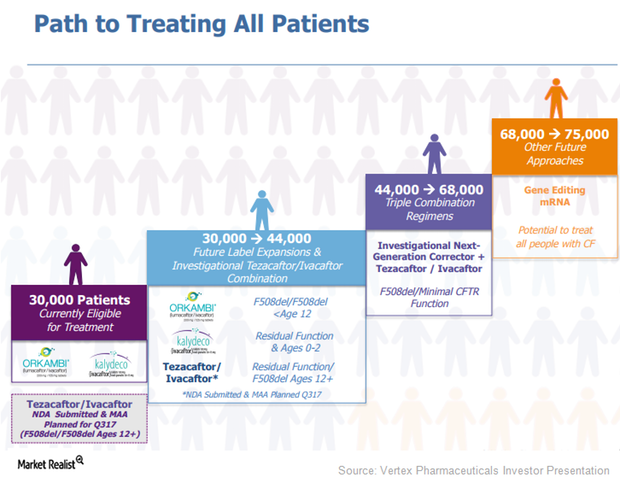 Vertex Pharmaceuticals Cystic Fibrosis Market Could Expand
By Margaret Patrick

Jul. 25 2017, Updated 4:06 p.m. ET
Cystic fibrosis portfolio
Vertex Pharmaceuticals' (VRTX) drugs, Orkambi (lumacaftor/ivacaftor) and Kalydeco (ivacaftor), are capable of treating around 30,000 cystic fibrosis (or CF) patients. Orkambi has been approved by the U.S. Food and Drug Administration (or FDA) for CF patients above six years of age with two copies of F508del mutation. Kalydeco is indicated for CF patients with one abnormal mutation in the cystic fibrosis transmembrane conductance regulator (or CFTR) gene. The recent label expansion for Kalydeco has expanded the scope of the drug to 33 mutations from the previous FDA approval, which restricted the drug to ten CFTR gene mutations.
Similar to drugs such as Amgen's (AMGN) Blincyto (blinatumomab), Alexion Pharmaceuticals' (ALXN) Soliris (eculizumab), and Gilead Sciences' (GILD) Zydelig ((idelalisib), Orkambi has also been granted orphan drug designation by the FDA.
Article continues below advertisement
Future growth opportunity
The company saw positive results from two phase 3 trials that demonstrated the efficacy of the combination regimen of tezacaftor/ivacaftor in CF patients above 12 years of age, with two copies of F508del mutation or with one F508del mutation and other residual function mutation, released in March 2017. Vertex Pharmaceuticals has submitted a new drug application (or NDA) to the FDA. The company also plans to submit a marketing authorization application (or MAA) to the European Commission (or EC) in 3Q17 to secure regulatory approval for tezacaftor/ivacaftor combination regimen in the continent.
Currently, there are no approved therapies for the F508del homozygous mutation population, who could not opt for the CFTR modulator Orkambi due to adverse side-effects. Vertex's Pharmaceuticals' doublet regimens are expected to target this unserved patient population, subsequently boosting the company's addressable market size to 44,000 patients.
The company has also released positive results from ongoing clinical 2 trials, which studied four next-generation correctors in combination with tezacaftor/ivacaftor. If  Vertex Pharmaceuticals manages to secure regulatory approval for this regimen, it will expand the company's addressable CF market to 66,000 patients.
The subsequent expansion of the company's drug portfolio is expected to boost Vertex Pharmaceuticals' share prices as well as those of SPDR S&P 500 ETF (SPY). Vertex Pharmaceuticals makes up about 0.18% of SPY's total portfolio holdings.
In the next part of this series, we'll discuss growth prospects for Orkambi in greater detail.