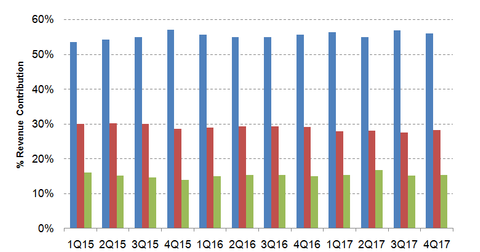 The Role of the US Dollar in Oracle's Performance
By Anne Shields

Updated
Geographical revenue in fiscal 2017
Oracle's (ORCL) largest segment is North America and Latin America, accounting for more than 55% of its total revenues in fiscal 2017. The remaining ~44% of Oracle's revenues came from the EMEA (Europe, the Middle East, and Africa) region and the Asia-Pacific region, including Australia, India, and South Korea (EWY).
Oracle, like its peers IBM (IBM) and Microsoft (MSFT), generates a significant portion of its revenues from outside the United States. In fiscal 2017, the EMEA region contributed 29% toward its overall revenues.

The technology industry's dependence on foreign countries for a majority of its revenues puts it at the mercy of currency movements, especially the US dollar (UUP).
Article continues below advertisement
Factors impacting the US dollar
When the Federal Reserve increased interest rates in mid-June—although it was expected—the move provided a stimulus to the US dollar.
This news failed to give support to the dollar, which fell due to the skepticism surrounding another rate hike in 2017. The US dollar hit 96.6 on June 6, 2017—the lowest level in seven months. In early January 2017, it had hit a 14-year high of 103.8.
President Donald Trump's inability to deliver tax subsidies, fiscal stimulus delay in policy reform, and the investigation into Russia's (RSX) possible interference in the US presidential election raised investor concerns about the US economy. As a result, the US dollar is in a downtrend, which is expected to increase if we consider industry analysts' opinions.
Jason Leinwand, founder and chief executive of FirstLine FX, stated, "People are losing confidence in the ability of the (Trump) administration to get anything done." Leinwand added, "It will slowly grind on the dollar."