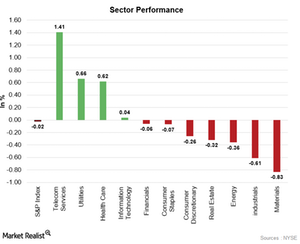 Why the S&P 500, NASDAQ, and Dow Lost Momentum
By Val Kensington

Updated
S&P 500
This week, the S&P 500 started on a stable note by trading at all-time high price levels on Monday. In the first two trading days, the market lost momentum. Later, it picked up momentum amid upbeat second quarter corporate earnings. On Thursday, the S&P 500 lost momentum amid dented market sentiment. Only four out of the S&P 500's 11 major sectors closed positive on July 20.
Article continues below advertisement
Market sentiment
The sentiment on Wall Street is positive this week but the market lost momentum amid concerns about the Trump Administration's ability to implement pro-growth policies. The market fell to session lows on Thursday after Bloomberg reported about Robert Mueller's investigation on President Trump. As part of the U.S. Office of Special Counsel's investigation into President Trump's ties to Russia in the 2016 presidential election, Mueller is expanding his investigation to President Trump's business transactions. The report limited markets' upward movements amid strong second quarter earnings reports.
Volatility
On July 20, the S&P 500 started the day higher but lost momentum and closed flat. The S&P 500 VIX Index, or CBOE Volatility Index, measures uncertainty in the market. On July 20, it fell 2.2% to 9.58. The VIX is measured on a scale of 1–100 with 20 as the historical average. It's also called the "fear index." It usually moves opposite to stocks' movements and rises when the S&P 500 falls.
NASDAQ and Dow
The NASDAQ Composite Index and Dow opened higher and lost momentum as the day progressed. The strength in IT stocks boosted the tech heavy NASDAQ Composite Index. The NASDAQ Composite Index rose 0.08% and closed the day at 6,390. The Dow fell 0.13% and closed at 21,611.78.
In the next part, we'll discuss the S&P 500's top and bottom performers on July 20.