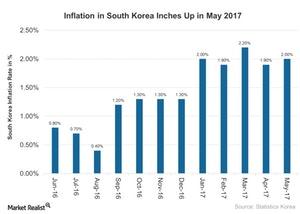 South Korea Reaches Target Inflation Rate in May 2017
Inflation in South Korea
South Korea's (EWY) inflation rate rose to 2% in May 2017 as compared 1.9% in the previous month. The inflation rose in line with market expectations in May 2017. The Central Bank of Korea continued to keep the key rate steady in May, as inflation reached its target rate during the month. Let's look at the inflation trend in South Korea over the last year in the chart below.
Article continues below advertisement
Article continues below advertisement
Inflation in May 2017
The inflation rate remained at or close to the central bank's 2% target for the second consecutive month. The steady inflation rate resulted mainly from mild growth in the following prices:
food and non-alcoholic beverages
clothing, footwear, and furnishings
household equipment and routine maintenance
The consumer prices on a monthly basis rose by 0.1 percentage points in May 2017. The Central Bank of South Korea (KORU) also left its base rate steady for the tenth consecutive meeting at a lower rate of 1.3% in May 2017. The central bank expects inflationary pressures on the demand side to remain steady with a moderate pace of economic growth in 2017.
The steady interest rate along with the rise in consumer confidence has led to an upbeat South Korean market. Both the South Korean won and stocks saw gains in June 2017. The local currency is up 13% against the US dollar (UUP) (USDU) so far in 2017, as of June 29. The benchmark index, KOSPI, has risen about 18% this year so far and about 2% in June 2017.
Expectations
President Moon's reforms to boost economic growth through huge budget spending are likely to increase inflation over the next year. Also, the recent rise in the Fed's rates may lead to a change in South Korea's (EEM) monetary policy stance in 2017, depending on the current economic conditions in the country.
Let's look at the unemployment situation in South Korea in the next article.