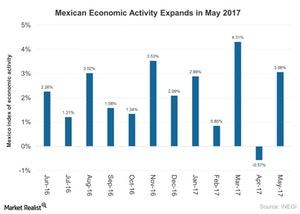 Mexico's Economic Activity Rebounded in May 2017
By Mary Sadler

Updated
Mexico's economic activity
Global (ACWI) economic activity has been strengthening due to growth in industrial production and global trade in 2017. In keeping with this trend, economic activity in Mexico (EWW) rose 3.1% year-over-year (or YoY) in May 2017, a rebound from its YoY fall of 0.57% in April 2017.
According to the July 2017 IMF (International Monetary Fund) World Economic Outlook Update, global growth is expected to be ~3.5% in 2017 and 3.6% in 2018. Improved global trade in 2017 is expected to benefit the exports of dependent economies such as Mexico (UMX) and Brazil (EWZ).
We can see the YoY economic activity in Mexico as of July 24, 2017, in the chart above.
Article continues below advertisement
Economic activity in May 2017
Mexico's (EEM) economic growth in May 2017 exceeded the market's expectation of 2.6%. Economic activity improved across many sectors:
Industrial production rebounded 1% in May 2017, compared to its 4.2% fall in April 2017.
Service sector output rose 4% in May, faster than its 1.4% rise in April.
Agricultural activity fell 0.3% in May, compared to its fall of 0.5% in April.
Output improved for the manufacturing sector, mainly boosted by the production of transport equipment, machinery and equipment, and computers and electronic accessories. The construction sector also grew 0.8% in May 2017, compared to its contraction of 6.2% in April. However, output fell at a slower rate for electricity, water, and gas supply as well as for mining and quarrying.
Economic activity in Mexico (ILF) rose 0.2% on a seasonally adjusted monthly basis in May 2017. According to IMF, Mexico's growth forecast for 2017 has been revised upward to 1.9% from 1.7%, mainly due to strong activity in 1Q17. The forecast for 2018 is unchanged at 2%, according to the IMF's July 2017 report.
Investments
Mexican equities have continued to surge in July 2017 as trade-related uncertainty slowly fades. Several political and economic reforms undertaken by Mexican president Enrique Nieto have also boosted foreign and domestic investment in Mexico (UMX).
The iShares MSCI Mexico Capped ETF (EWW), which tracks Mexican equities, has risen ~6% in July 2017 as of July 25. In 2017, EWW has risen ~30% amid strong corporate earnings as of July 25.
Next, let's look at unemployment in Mexico.