Johnson & Johnson: Medical Devices in 2Q17
Medical devices segment Johnson & Johnson's (JNJ) medical devices segment grew ~4.9% to ~$6.7 billion for 2Q17, compared with $6.4 billion in 2Q16. This rise included an operational increase of 5.9%, and was offset by a 1% impact of foreign exchange. Cardiovascular care franchise Cardiovascular care franchise sales rose 11.3% to $523 million for 2Q17. This […]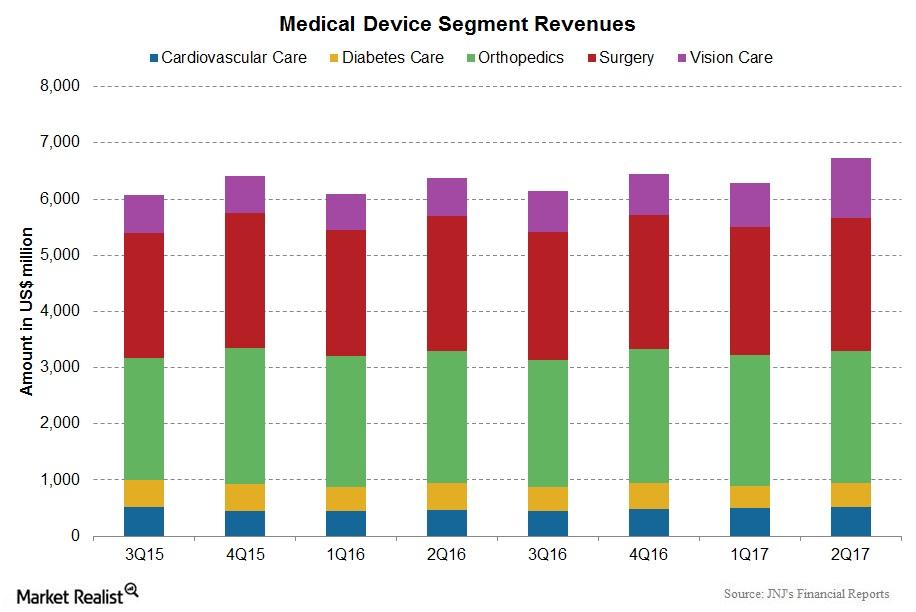 Medical devices segment
Johnson & Johnson's (JNJ) medical devices segment grew ~4.9% to ~$6.7 billion for 2Q17, compared with $6.4 billion in 2Q16. This rise included an operational increase of 5.9%, and was offset by a 1% impact of foreign exchange.
Article continues below advertisement
Article continues below advertisement
Cardiovascular care franchise
Cardiovascular care franchise sales rose 11.3% to $523 million for 2Q17. This growth was due to the electrophysiology business, specifically the Thermocool SmartTouch Catheter. Sales for cardiovascular care were impacted by the divestiture of the Cordis business in 4Q15.
Diabetes care franchise
In 2Q17, the diabetes care franchise's sales fell 10.6% to $421 million due to pricing pressure and competition from new pumps in the market.
Article continues below advertisement
Orthopedics franchise
The orthopedics franchise reported a fall of 0.5% in revenue to $2.3 billion in 2Q17, due to lower sales of spine products. The fall was partially offset by sales of hip, knee, and trauma products. Revenue included an operational increase of 0.4%, which was more than offset by foreign exchange.
Surgery franchise
Surgery sales fell 0.5% to $2.3 billion in 2Q17. This figure was driven by increased sales of endocutter, energy, and biosurgery products in advanced surgery, and sutures in general surgery products, and offset by lower sales of endo-mechanical products in general surgery products, and lower mentor and sterilmed sales in specialty surgery products.
Vision care franchise
Vision care sales rose 54.0% to $1.1 billion in 2Q17, following strong performance in all major markets worldwide. On an operational basis, revenue growth for this franchise was 55.0%. The growth was driven by new products, including DEFINE and OASYS 1-Day, as well as the acquisition of Abbott Medical Optics.
To divest risk, investors could consider the Fidelity MSCI Healthcare Index ETF (FHLC), which has an 8.8% exposure to Johnson & Johnson. FHLC also has a 5.3% exposure to Merck and Co. (MRK), a 4.6% exposure to Gilead Sciences (GILD), and a 3.3% exposure to Medtronic (MDT).