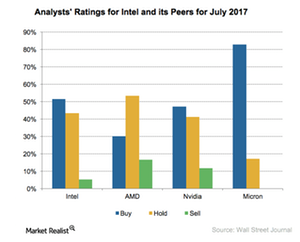 How Wall Street Analysts View Intel
By Puja Tayal

Updated
Analysts' recommendations
So far in this series, we've seen that Intel's (INTC) short-term earnings could be impacted as the company transitions to fast-growing markets. However, the company's fiscal 2017 guidance and future growth opportunities don't seem to please investors and analysts.
Intel's stock has fallen 8% since the start of 2017. Wall Street analysts are becoming less bullish on Intel due to poor earnings guidance. In July 2017, 21 of the 40 analysts monitoring Intel gave a "buy" recommendation, which is lower than the 23 analysts who gave a "buy" recommendation in April 2017. The number of analysts giving a "sell" recommendation increased from one in June 2017 to three in July 2017.
Article continues below advertisement
Jefferies is bearish on Intel
Jefferies' analyst Mark Lipacis downgraded Intel stock to "sell" and reduced his price target from $38 to $29. He believes that the technology shift toward AI (artificial intelligence) puts Intel at a disadvantage and Advanced Micro Devices (AMD), NVIDIA (NVDA), Cavium (CAVM), and Xilinx (XLNX) at an advantage. 
This rating downgrade saw Intel stock fall 1%, but AMD, NVIDIA, Xilinx, and Cavium stock rose ~1.4%, 3.3%, ~1.5%, and ~1.6%, respectively.
Technology shift in computing
In a report, Lipacis stated that the technology industry undergoes a major computing shift every 20 years.
The first shift was toward mainframe computers in the 1950s, which benefited IBM (IBM).
The second shift was toward minicomputers in the 1970s, which benefited DEC (Digital Equipment Corporation), which is now a part of Hewlett-Packard (HPQ).
The third shift was toward personal computers in the 1980s, which benefited Intel and Microsoft (MSFT).
The fourth shift was toward smartphones and servers in the 2000s, which benefited Nokia (NOK), Apple (AAPL), and Samsung (SSNLF). Intel missed the smartphone shift but captured the server shift.
The fifth shift is now heading toward IoT (Internet of Things) and parallel computing. NVIDIA is at the leading edge of this trend, followed by AMD, Cavium, and Xilinx.
In the next part of this series, we'll see why Lipacis believes that Intel has a disadvantage over NVIDIA.