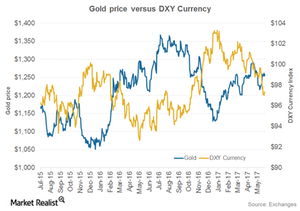 How the Euro Pushed the Dollar Lower and What It Meant for Gold
DXY tumbles
July 20, 2017, was an up day for the euro, which put downward pressure on the US dollar as represented by the U.S. Dollar Index (or DXY). The DXY prices the US dollar against a basket of six major world currencies including the euro. The DXY touched its lowest level in 11 months on July 20. It fell a whopping 0.5% on the day.
The falling dollar is beneficial for precious metals because they're all greenback-based assets, and a tumbling dollar means investors from other countries can buy the dollar for cheaper in exchange for their home currencies. In this way, demand for dollar-based assets sees a boost.
Article continues below advertisement
Gold and the dollar
The chart above shows how gold (SGOL) (SIVR) and the dollar (UUP) have diverged over the past week. The chart is a clear depiction of their inverse relationship. However, the correlation between gold and the US dollar isn't very high despite their much-discussed inverse relationship.
The correlation between gold and the US dollar is -0.21% year-to-date, which suggests that ~21.0% of the time, a rise in the US dollar will lead to a fall in gold, and a fall in the US dollar will lead to a rise in gold.
Because precious metals are inversely related to the dollar, so are mining shares. Most of the time, a fall in the dollar is beneficial for miners. Among the mining shares that rose on June 20 were Alamos Gold (AGI), First Majestic Silver (AG), Goldcorp (GG), and Royal Gold (RGLD).