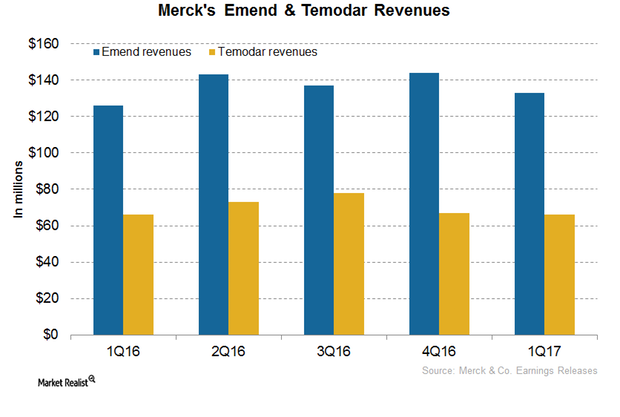 How Merck's Oncology Drugs Emend and Temodar Could Perform in 2017
Emend's revenue trends
In 2016, Merck's (MRK) Emend reported revenues of around $549 million, which reflected 3% year-over-year (or YoY) growth. The higher pricing and demand in the US propelled its revenue growth in 2016.
In 1Q17, Emend generated revenues of around $133 million, which reflected 6% growth YoY basis and an 8% decline quarter-over-quarter. The growth in sales volume in Japan and pricing in the US contributed to the revenue growth in 1Q17 compared to 1Q16.
Article continues below advertisement
About Emend
Emend (aprepitant) is indicated along with other anti-emetic agents for the prevention of nausea and vomiting in patients under highly emetogenic cancer chemotherapy (HEC). In February 2016, the FDA approved Emend (fosapreptant dimeglumine) single-dose injection for the prevention of delayed nausea and vomiting in adult patients undergoing moderately emetogenic cancer chemotherapy. The drug is available as an oral suspension, capsule, and injection.
The above graph characterizes the revenue curve of Emend and Temodar from 1Q16 to 1Q17.
Temodar's revenue trends
In 2016, Temodar reported revenues of around $283 million, which reflected 9% growth YoY. In 1Q17, Temodar generated revenues of around $66 million, similar to 1Q16. Outside the US, the drug is marketed as Temodal.
About Temodar
Temodar (temozolomide) is an alkylating agent indicated for the treatment of anaplastic astrocytoma and newly diagnosed glioblastoma multiforme (or GBM) brain tumors.
Merck's peers in the anti-cancer drug market include Novartis (NVS), AbbVie (ABBV), Johnson & Johnson (JNJ), Celgene, and Bristol-Myers Squibb. Notably, the Health Care Select Sector SPDR ETF (XLV) has 5.7% of its total portfolio holdings in Merck.