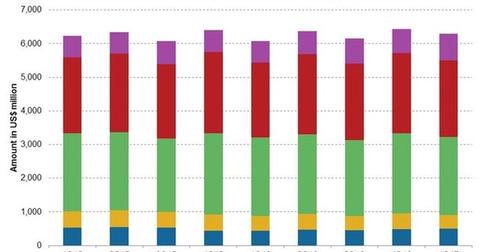 How Johnson & Johnson Is Bulking up in Orthopedics Devices
By Sarah Collins

Updated
Overview
Johnson & Johnson (JNJ) reported ~$17.8 billion in revenues in 1Q17, registering a YoY (year-over-year) sales growth of around 1.6%. While the company's Pharmaceuticals and Consumer segments reported YoY growth of ~0.8% and 1%, respectively, its Medical Device segment reported ~3% growth.
JNJ's orthopedics device business is the largest business under the Medical Device segment, contributing ~37% of the segment's overall revenues in 1Q17.
Article continues below advertisement
Recent product launches
On June 29, 2017, New Fenestrated Screw Systems Viper and Expedium were launched in the United States by Depuy Synthes, aJNJ subsidiary. Screw systems are used in conjunction with the company's high viscosity spinal cement to restore the integrity of the spinal column in spinal tumor patients in advance stages. JNJ received 510(k) clearance from the FDA (US Food and Drug Administration) for the screw systems in January 2017.
According to Daniel Sciubba, Director of Spine Tumor and Spine Deformity Surgery and Johns Hopkins Hospital, "The ability to inject cement via fenestrated screws is a true game-changer in the field of spinal oncology…The systems are reliable and easy-to-use and can seamlessly be incorporated into open and minimally invasive approaches."
Article continues below advertisement
Spinal fusion surgery
In February 2017, in collaboration with LifeNet Health, Depuy Synthes launched ViviGen Formable Cellular Bone Matrix, which is used during spinal fusion surgery to assist in the bone formation. This is JNJ's second generation cellular allograft. The first generation ViviGen Cellular Bone Matrix was launched in 2014 and is being used for musculoskeletal defect reconstruction in various trauma procedures.
According to MedicineNet, Allograft is "the transplant of an organ or tissue from one individual to another of the same species with a different genotype," such as "a transplant from one person to another, but not an identical twin." Allograft is a lower-risk substitute of autograft that involves a tissue transplant from one part of the body to another of the same individual.
Competitors and ETFs
Notably, Medtronic (MDT), Stryker (SYK), and Zimmer Biomet Holdings (ZBH) are direct competitors with Depuy Synthes in this space. Zimmer Biomet Holdings launched its PrimaGen Advanced Allograft system in December 2016.
For diversified exposure to Johnson & Johnson, investors can consider the Vanguard Value ETF (VTV), which has ~3.2% of its total holdings in JNJ.
Next, we'll discuss JNJ's other recent launches in its Medical Device segment.