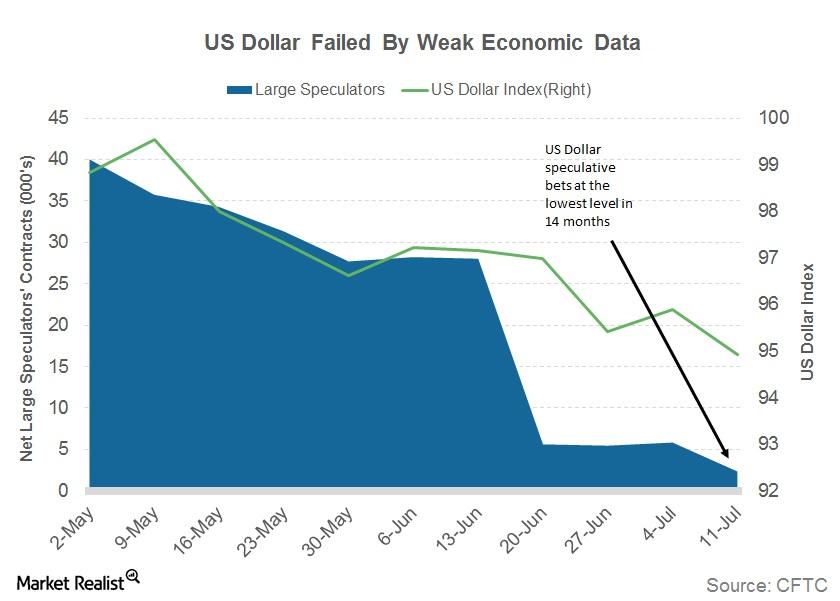 Have Yellen and US Economy Failed the US Dollar?
Weak data and dovish Yellen dragged the dollar lower
The US Dollar Index (UUP) closed at 94.9, depreciating by 0.90% last week. The US dollar was sold off against the euro, pound, yen, and most of the other currencies as US economic data disappointed and US Fed chair Yellen sounded dovish in her testimony to the US Congress. Yellen said she was concerned about lower levels of inflation but remained optimistic that the US economy would bounce back in the second quarter. Her concern about inflation was solidified after weak inflation figures and retail sales on Friday, July 14.
Article continues below advertisement
Article continues below advertisement
Inflation growth for June was reported at 0.1% against a market expectation of 0.2%. Retail sales (XRT) data also disappointed with June retail sales falling 0.2% against an expectation of 0.1% growth. This weak data coupled with a dovish stance from Yellen reduced the chances for another rate hike in the near future and led to the US dollar's weakness.
US dollar's bullish position at lowest level in 14 months
As per the latest Commitment of Traders (or COT) report, released on July 14 by the Chicago Futures Trading Commission (or CFTC), large speculators and traders have reduced their bullish position on the US dollar. As per Reuters, the overall bullish US dollar (USDU) positions stood at $62.5 million as compared to $135 million in the previous week. This amount is a combination of the US dollar's contracts against the combined contracts of the euro (FXE), British pound (FXB), Japanese yen (FXY), Australian dollar (FXA), Canadian dollar (FXC), and the Swiss franc.
Week ahead for the US dollar
Markets are likely to continue reacting to the Fed's comments and the economic data scheduled to be reported during this week. Housing starts are expected to improve after a 5.5% drop in May. Other data releases include the Empire State Index, the Philly Fed Index, and the June trade data. Data will likely take a back seat, as the Fed's view will remain the key driver for this week.