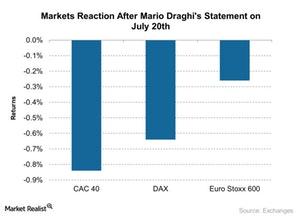 Euro Surged, Market Fell after Draghi's Statement
Euro surged
A country's currency has an important role during certain events in the country or during any macro event. On Thursday, July 21, 2017, during the announcements of the ECB's (European Central Bank) policy decision, the euro (FXE) had a mixed response.
When ECB president Mario Draghi announced that the interest rate remained unchanged at 0.0%, the euro fell nearly 0.30% against the US dollar (UUP) (USDU). When Draghi hinted that there will be some discussion about economic growth and the policy framework in the September 2017 meeting, the euro surged nearly 0.86% that day against the US dollar.
If we analyze the last one-year performance of the euro, we see that the euro surged nearly 4.5% against the US dollar. The ECB's hawkish statement in the June 2017 meeting mainly drove the performance of the euro.
Article continues below advertisement
The market fell
The market showed a different reaction. Major indexes of the Eurozone such as Germany's (EWG) DAX index and France's (EWQ) CAC index fell nearly 0.34%, and 0.32%, respectively, on July 21, 2017.
The STOXX Euro 600 Index fell nearly 0.26% the day after the ECB made the announcement. It seems the market isn't happy with the ECB's decision. It's trading within a narrow range, showing some nervousness ahead of the policy tightening.
In the next part of this series, we'll analyze why Bill Gross thinks the central bank's policy has distorted capitalism.