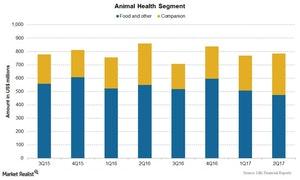 Eli Lilly's Elanco in 2Q17
By Mike Benson

Aug. 1 2017, Updated 8:06 a.m. ET
Elanco
Elanco is part of Eli Lilly and Company's (LLY) Animal Health segment. Elanco includes products from the companion animal product portfolio as well as the food and other products portfolio for animals. Elanco's revenues fell 9.0% to $784.8 million in 2Q17 compared to $859.8 million in 2Q16.
The above graph shows revenues for Elanco over the last eight quarters. The segment contributed ~13.5% to Lilly's total revenues in 2Q17.
Article continues below advertisement
Revenues for Animal Health segment
Eli Lilly's US Animal Health sales fell 9.0% to $406.5 million in 2Q17. Animal Health sales outside the US markets fell 9.0% to $378.3 million, including revenues from Novartis (NVS) Animal Health. US revenues fell due to a 23.0% fall in the sales of food and other products following the competition as well as market access pressure for cattle and swine products. US companion animal products reported a 9.0% rise in revenues due to the inclusion of the Boehringer Ingelheim Vetmedica's US Feline, Canine, and Rabies Vaccines portfolio. For international revenues, the animal food products and companion products reported falling revenues due to lower sales.
Companion animal products
Companion animal products reported a marginal rise in revenues to $311.8 million in 2Q17 compared to $309.8 million in 2Q16. That includes a 9.0% rise in US sales of companion animal products to $222.8 million and a fall of 16.0% in sales of companion animal products outside the US markets to $88.9 million.
Food and other products
Revenues for food and other products were $473.1 million in 2Q17, a 14.0% fall compared to $550.0 million in 2Q16. Revenues included a fall of 23.0% in US sales, a 7.0% fall in international sales, a 5.0% operational decline, and a 2.0% negative impact of foreign exchange.
Other companies such as Merial, a Sanofi (SNY) company; Zoetis (ZTS), the animal health arm of Pfizer (PFE); and Merck & Co.'s (MRK) animal health segment compete with Lilly on certain product mixes.
To divest the company-specific risks, you can consider the Vanguard Healthcare ETF (VHT), which holds 2.4% of its total assets in Eli Lilly. VHT also holds 10.0% in Johnson & Johnson (JNJ), 3.2% in AbbVie (ABBV), and 2.7% in Allergan (AGN).