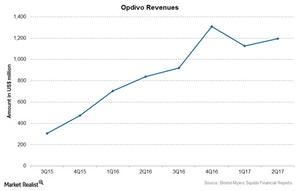 Bristol-Myers Squibb's 2Q17 Earnings: Opdivo
Opdivo
Bristol-Myers Squibb's (BMY) blockbuster drug Opdivo is used for the treatment of melanoma, non-small cell lung cancer, renal cell carcinoma, squamous cell carcinoma of the head and neck, classical Hodgkin's lymphoma, and urothelial carcinoma.
Opdivo reported revenue of $1.2 billion in 2Q17, a 42% rise compared to $840 million in 2Q16.
The above chart shows Opdivo's revenues over the last few quarters. In 2Q17, Opdivo was BMY's largest revenue-contributing drug, followed by Eliquis, and it's expected to continue to be one of the company's major revenue contributors in the coming years.
Article continues below advertisement
Article continues below advertisement
Recent Opdivo developments
Recent developments for the drug Opdivo include the following:
On July 24, 2017, the FDA accepted a supplemental biologics application for updating the dosing of Opdivo 480mg to be infused over 30 minutes every four weeks for all approved monotherapy indications.
On July 10, 2017, Bristol-Myers Squibb and Exelixis (EXEL) initiated Checkmate 9ER, a Phase 3 trial to evaluate Opdivo in combination with Cabometyx tablets, and an Opdivo-Yervoy combination with Cabometyx tablets in patients with previously untreated renal cell carcinoma.
On July 5, 2017, Bristol-Myers Squibb announced that the Checkmate-238 study, a Phase 3 study evaluating Opdivo 3mg/kg and Yervoy 10mg/kg for the treatment of patients with either Stage IIIb/c or Stage IV melanoma and patients who were at a high risk of recurrence, had met its primary endpoints. According to the study, Opdivo had a superior recurrence-free survival rate compared to Yervoy.
To divest company-specific risks, investors can consider ETFs such as the VanEck Vectors Pharmaceutical ETF (PPH), which holds 4.7% of its total assets in Bristol-Myers Squibb. PPH also holds 6.6% of its total assets in Novartis AG (NVS), 4.9% in Sanofi (SNY), and 4.6% Eli Lilly and Company (LLY).