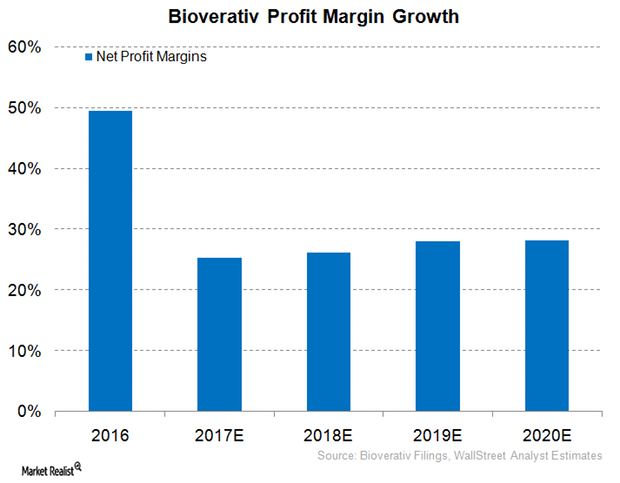 Bioverativ Expected to Report Healthy Profit Margins in 2017
Bioverativ (BIVV) expects its 2017 GAAP and non-GAAP operating margins to fall 38.0%–42.0% and 43.0%–47.0%, respectively.
Healthy profit margins
In its 1Q17 earnings conference call, Bioverativ (BIVV) reiterated its 2017 GAAP and non-GAAP operating margin guidances, which the company anticipates to fall 38.0%–42.0% and 43.0%–47.0%, respectively. The company has also projected its GAAP and non-GAAP tax rate to be 36.0%–38.0% for 2017.
If Bioverativ surpasses these margin projections, it will have a favorable impact on its stock as well as the SPDR S&P MidCap 400 ETF (MDY). Bioverativ makes up about 0.41% of MDY's total portfolio holdings.
Wall Street analysts have projected Bioverativ's 2017 net profit margin at about 25.3%.
In 2017, peers Alexion Pharmaceuticals (ALXN), United Therapeutics (UTHR), and Vertex Pharmaceuticals (VRTX) are expected to report revenues of around 20.2%, 43.4%, and 13.6%, respectively.
Article continues below advertisement
Article continues below advertisement
Hemophilia market opportunity
Currently, Bioverativ's major focus is the hemophilia A and B factor patient pool. It's a market worth $10.0 billion globally and is expected to grow year-over-year (or YoY) about 7.0%. The hemophilia A market is worth $8.0 billion, while hemophilia B has a market value of around $1.6 billion globally. Bioverativ has projected that about 400,000 people suffer from hemophilia, while only 181,000 have been identified. About 151,000, or 80.0% of the patient population, are affected by hemophilia A, while the remaining 20.0% suffer from hemophilia B.
With the disease prevalence rapidly growing around the world and more patients shifting from short-acting to extended half-life therapies such as Alprolix and Eloctate, Bioverativ is expected to pose serious competition to other hemophilia players such as Novo Nordisk (NVO), Pfizer (PFE), and Shire (SHPG).
Next, let's take a look at the growth trends for Alprolix and Eloctate.