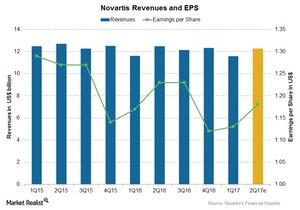 Analysts Expect Novartis's Revenues to Fall in 2Q17
Novartis's revenue estimates
Analysts expect Novartis's (NVS) revenues to fall ~1.6% to $12.3 billion in 2Q17 due to the effects of the acquisition and divestiture of some of its products, as these factors have a long-term effect.
The above graph shows the company's actual revenues over the last few quarters and analysts' estimates for 2Q17.
Article continues below advertisement
Article continues below advertisement
Segment-wise expectations for 2Q17
Since 2014, Novartis has divested some of its business segments, including Novartis Animal Health to Eli Lilly (LLY), part of its Vaccines and Consumer Healthcare segment to GlaxoSmithKline (GSK), and its influenza vaccine business to CSL Limited. The company also acquired GlaxoSmithKline's oncology business in March 2015. According to the new structure, Novartis's business is divided into three segments:
Innovative Medicines – previously the Pharmaceuticals segment, includes Novartis Pharmaceuticals and Novartis Oncology
Sandoz – generic pharmaceuticals under the Sandoz brand
Alcon – eye care business under the Alcon brand
Revenues for Innovative Medicines are expected to rise on an operational basis in 2Q17 considering the strong performance of products such as Gilenya, Tasigna, Tafinlar and Mekinist, Jakavi, Afinitor, Xolair, and the COPD (chronic obstructive pulmonary disease) portfolio. However, products such as Diovan monotherapy, Exforge, and Vivelle-Dot, which are losing market share due to generic competition, are expected to report lower sales in 2Q17.
Sandoz, Novartis's generic pharmaceuticals business, is expected to increase operationally in 2Q17, driven by a growth in sales of dermatology products, biosimilars, and new products such as Glatopa.
Alcon, the eye care division, is expected to report operational growth in revenues in 2Q17, mainly due to increased sales of vision care products and partially offset by lower sales of surgical products.
To divest the risk, you can consider ETFs such as the PowerShares International Dividend Achievers ETF (PID), which holds 1.5% in Novartis. PID also holds 1.9% in Novo Nordisk (NVO), 1.9% in Sanofi (SNY), and 1.5% in Teva Pharmaceutical Industries (TEVA).