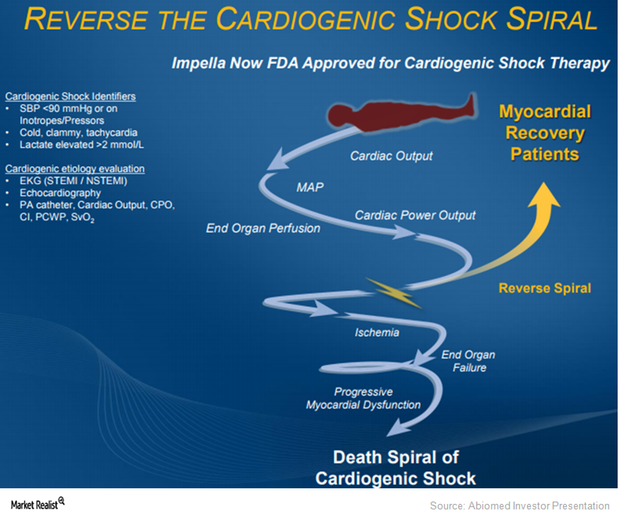 Why Abiomed Expects to Benefit from Impella in Cardiogenic Shock
Cardiogenic shock indication
On March 23, 2015, the FDA (US Food and Drug Administration) approved Abiomed's (ABMD) Impella 2.5 heart pump as a temporary ventricular support device to be used to prevent hemodynamic instability in high-risk PCI (percutaneous coronary intervention) procedures.
On April 7, 2016, FDA approved the Impella 2.5, Impella CP, Impella 5.0, and Impella LD devices in combination with an automated Impella controller console to provide circulatory support to patients who witness cardiogenic shock within 48 hours of acute myocardial infarction or open heart surgery.
Impella devices are the only FDA-approved percutaneous temporary ventricular support devices with a cardiogenic shock indication right now. This exclusivity is expected to result in the rapid uptake of these devices in the market.
This label expansion has enabled Abiomed to become a prominent cardiovascular med-tech company, similar to peers Johnson & Johnson (JNJ), Medtronic (MDT), and Stryker (SYK).
Notably, the iShares S&P Mid-Cap 400 Growth ETF (IJK) has about 0.67% of its total portfolio holdings in Abiomed.
Article continues below advertisement
Impella products approved for cardiogenic shock
The Impella 2.5 device is placed on a catheter and inserted through femoral artery as a part of normal interventional cardiology procedures. This small heart pump helps the patient's weak heart by drawing out blood from the left ventricle of the heart and delivering it to the circulatory system. The Impella 2.5 device has the capacity to pump 2.5 liters of blood per minute. The Impella CP device has a capacity of pumping about 3.5 liters blood per minute and has also been approved for both high-risk PCI and cardiogenic shock indications.
The Impella 5.0 and Impella LD devices have the capacity to pump around 5.0 liters of blood per minute, which implies that they are capable of providing full circulatory support.
In the next part of this series, we'll discuss the growth prospects for Abiomed in the STEMI cardiogenic shock segment.