Abiomed Aims to Expand Impella RP's Penetration Going Forward
In March 2017, Abiomed (ABMD) submitted premarket approval (or PMA) to the FDA for its Impella RP device far ahead of schedule.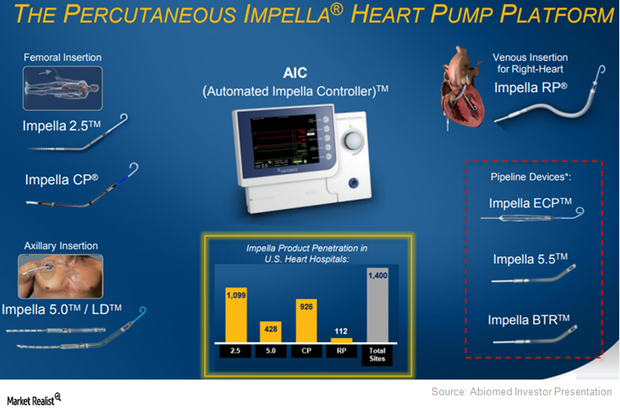 Impella RP approval timeline
In March 2017, Abiomed (ABMD) submitted premarket approval (or PMA) to the FDA for its Impella RP device far ahead of schedule. The company expects to secure approval for the device by October 2017 and to launch it in the United States in fiscal 2H18.
If approved by the FDA, this device will become the first ventricular assistance device used to compensate for right ventricular heart failure. It will be indicated for those patients who are already using left ventricular assist devices or who have suffered heart failures after open heart surgery, failed heart transplants, or acute myocardial infarctions (or AMI).
The commercial launch of Impella RP could boost Abiomed's share price as well as the price of the iShares Core S&P Mid-Cap ETF (IJH). Abiomed makes up ~0.35% of IJH's total portfolio holdings. The above diagram shows the major devices that form Abiomed's Impella franchise.
While Impella RP was placed at 112 hospital sites at the end of January 2017, the number rose to 127 sites with a penetration rate of 9% of targeted hospitals at the end of March 2017.
Impella RP mainly targets patients who may require both left ventricular and right ventricular heart support. Since the right side of the heart is made of a thinner muscle wall, Abiomed believes that it's possible to recover it completely if patients can survive the period of injury.
Article continues below advertisement
Article continues below advertisement
Commercial trends
The Centers for Medicare and Medicaid Services (or CMS) has come out with separate diagnosis related group (or DRG) codes 1 and 2 for biventricular support reimbursement. This release should further boost the adoption of Impella RP.
Abiomed has also opted for a PMA pathway to launch Impella RP, instead of choosing to launch the device under a humanitarian device exemption. In the latter case, hospitals would have been required to sign up with the Institutional Review Board (or IRB) to use the device.
The PMA pathway will ensure faster penetration of the device, which is expected to target ~1,000 hospital sites in future years. In addition to heart hospitals with cath labs and surgical suites, which would require biventricular support, 400 more heart hospitals with only cath labs may also have to be equipped to provide biventricular support before shifting patients to major sites. This dynamic could further fuel additional demand for Impella RP.
Impella RP could thus enable Abiomed to compete effectively with other cardiovascular players such as Johnson & Johnson (JNJ), Medtronic (MDT), and Stryker (SYK).