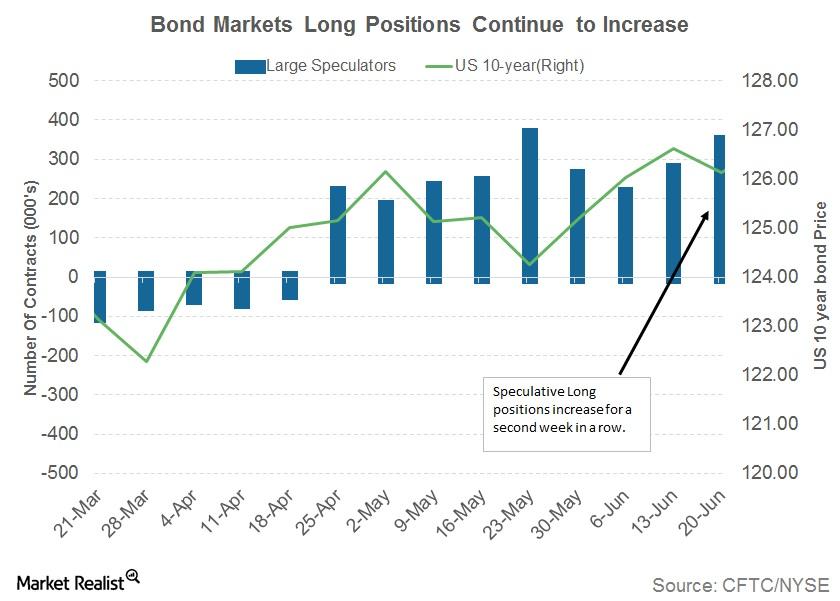 Why Bond Traders Continue to Be Confused
It is all about the Fed and yield spreads
US Treasuries (GOVT) had another roller coaster ride this week due in part to the conflicting views from Fed members and weaker-than-expected economic data from the US. US Treasury yield spreads continue to remain near multiyear lows as investors continue to question the Fed's inflation outlook. Another source of uncertainty for bond (BND) traders was from the conflicting views of the FOMC members. The St. Louis Fed president, James Bullard, said it would be better to wait for further data before the next rate hike, while the Cleveland Fed president, Loretta Mester, warned if the Fed fails to raise interest rates soon, the US economy could miss inflation and employment goals, which could eventually lead to a recession.
Article continues below advertisement
Article continues below advertisement
Bond traders prefer to remain long on short-term bonds
As per the latest Commitment of Traders (or COT) report, bond traders increased their bullish long positions in the previous week. The total speculative contracts of ten-year US Treasury futures (IEF) that are traded by large speculators and hedge funds stood at 345,172, an increase of 71,203 contracts from the previous week. Bond traders are expecting a further increase in bond prices as chances for a rate hike from the Fed continue to decline with weak economic data from the US.
Supply deluge scheduled for this week
The US Treasury has announced an auction of $26 billion of two-year notes (SHY), $34 billion of five-year notes, and a $28 billion seven-year note (SCHO). Such supply is likely to keep the short-term yields lower in the coming week. Fed speeches will also be in focus. Another week of conflicting views from FOMC members could reduce the probability of a rate hike in the near term and lead the yield curve to flatten further.
To know more about yield curve flattening and its impact, read Why is the yield curve flattening?