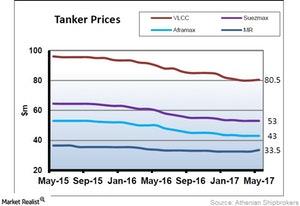 VLCC Prices Rose First Time in 2017
By Sue Goodridge

Nov. 20 2020, Updated 5:06 p.m. ET
Newbuild vessel prices
Newbuild VLCC (very large crude carrier) prices rose in May 2017, and this is the first time we've seen a rise in prices this year. Still, the price is 2% lower than it was at the start of the year, and in 2016, VLCC prices fell 12%.
Suezmax and Aframax prices remained constant in May from the previous month. But Suezmax and Aframax prices have fallen 1% since the start of the year. In 2016, Suezmax prices fell 15%.
According to data from Athenian Shipbrokers for May 2017, newbuild prices were as follows:
$80.5 million for VLCCs, which is a rise from $80 million in April
$53 million for Suezmax, which is similar to prices in April
$43 million for Aframax, which is similar to prices in April
The tanker industry is already under pressure due to the rising fleet size. From the start of the year, demand for newbuild tankers has fallen as companies have not been ordering new vessels. For this reason, there has been a fall in vessel prices.
Article continues below advertisement
Secondhand prices
Five-year and ten-year VLCC values for May 2017 were $65 million and $42 million, respectively. Five-year vessel prices rose in May, while ten-year vessel prices have been constant since January. Suezmax and Aframax five-year prices slightly rose to 42.5 million and $31 million, respectively.
Time premium
We have calculated the time premium as a ratio of five-year vessel values to the current newbuild price. Assuming that a vessel's life is 25 years, a five-year vessel should be worth 80% of the newbuild price.
If an industry participant has a positive outlook on the crude tanker industry in the short to medium term, it will pay a premium on secondhand vessels to obtain ships immediately. In contrast, if the outlook is negative, assets will be valued lower.
In May 2017, the above ratio rose to 80.7% from 77.5% in the previous month. This tells us that companies have a positive outlook for VLCCs in the short term. This is a good sign for crude tanker companies like Teekay Tankers (TNK), Euronav (EURN), Frontline (FRO), DHT Holdings (DHT), and Tsakos Energy Navigation (TNP).