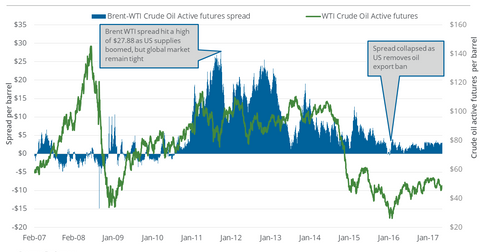 US Oil in a Bear Market: What's Up with the Brent-WTI Spread?
By Rabindra Samanta

Updated
Brent-WTI spread
On June 20, 2017, Brent crude oil (BNO) active futures were trading $2.79 higher than WTI (West Texas Intermediate) crude oil (UCO) (OIIL) (USL) active futures. 
On June 13, the premium (or spread) of Brent crude oil active futures to WTI crude oil active futures was $2.26 per barrel.
Article continues below advertisement
Global oil supply and the Brent-WTI spread
OPEC's (Organization of the Petroleum Exporting Countries) members struck an oil output cut deal on November 30, 2016. According to the deal, the cartel will reduce its oil output by 1.2 million barrels per day. The output cut deal was implemented in January 2017.
On December 1, 2016, one day after OPEC's deal announcement, the Brent-WTI spread nearly tripled. The change in the spread could be the result of the following factors:
reduction in global crude oil supply outside the United States
anticipation of a rise in US domestic crude oil production, as oil prices could be supported by OPEC's deal
However, a similar market sentiment was absent when on May 25, 2017, OPEC extended the output cut deal until March 2018. In fact, though the Brent-WTI spread rose to $3.28 per barrel just a few days before the announcement, the spread contracted a day after it, likely due to the market's disappointment with the scale of the cut. US crude oil active futures also fell 11.6% between May 25 and June 20, 2017.
The rise in the spread in the trailing week could indicate similar market dynamics, booming US supply, and constrained international supply.
Why the Brent-WTI spread matters
A rise in the Brent-WTI spread could imply lower domestic prices for US oil producers (XOP) compared to what their international peers earn. 
However, at the same time, if the Brent-WTI spread could cover storage and transportation costs, the export of US oil could be profitable for US producers. In December 2015, US Congress repealed crude oil's export ban. On a year-over-year basis, US crude oil exports have surged 92.2% in 2017 compared to 2016.
However, a surge in the Brent-WTI spread could boost American refiners' (CRAK) profits as their input costs fall even as their product prices remain relatively high.