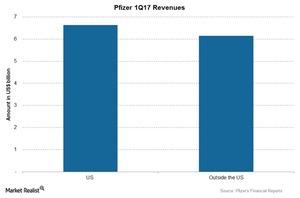 Understanding Pfizer's 1Q17 Performance by Geography
By Mike Benson

Jun. 8 2017, Updated 7:36 a.m. ET
Pfizer's revenues
Pfizer (PFE) reported a 2% decline in revenues to ~$12.8 billion for 1Q17, as compared to $13.0 billion in 1Q16, including a 1% operational decline and 1% decline due to the negative impact of foreign exchange.
The company reported ~48% of its total revenues from sales outside US markets, which directly exposes the company to the currency risks, with foreign exchange rates having a substantial impact on growth.
Article continues below advertisement
Pfizer and US markets
PFE's Innovative Health segment reported strong performances from Chantix, Eliquis, Ibrance, Lyrica, Somavert, and Xeljanz during 1Q17, showing an increase of 9% in revenues from this segment in US markets.
The drugs Celebrex, Medrol, Relpax, and Revatio from the Essential Health segment also reported strong performances in US markets during 1Q17.
But revenues from US markets overall fell marginally to $6.64 billion in 1Q17, as compared to ~$6.70 billion in 1Q16, as the growth in the Innovative Health segment was more than offset by the lower sales in the Essential Health segment.
Pfizer outside US markets
The Innovative Health segment reported growth in revenues outside US markets from Eliquis, Lyrica, Refacto AF, Xalkori, and Xeljanz, and consumer healthcare products in 1Q17. However, this growth was substantially offset by the lower sales of other products, which resulted in flat revenues overall for the segment in 1Q17.
On its own, the Essential Health segment reported a 4% fall in its 1Q17 revenues.
Overall revenues from outside US markets saw a 3% decline to $6.14 billion in 1Q17, as compared to $6.34 billion in 1Q16. The contribution of sales outside US markets comes to 48% of the company's total sales, and these reported sales included a -2% negative impact of foreign exchange.
Remember, to divest company-specific risk, investors can consider ETFs like the iShares Core High Dividend ETF (HDV), which has 4.9% of its total assets in Pfizer. HDV also has 5.8% of its total assets in Johnson & Johnson (JNJ), 3.5% in Merck (MRK), and 1.5% in Eli Lilly (LLY).