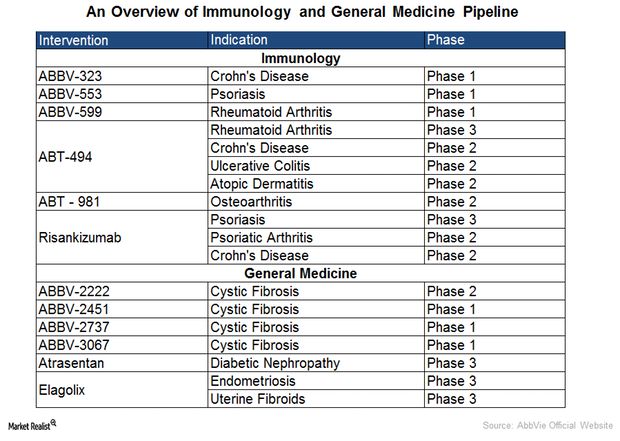 This Product Pipeline Brings Hope for AbbVie's Future Growth
Immunology pipeline trends
AbbVie (ABBV) has a focused immunology pipeline in order to address various dermatologic and gastrointestinal conditions. Crohn's disease, psoriasis, rheumatoid arthritis, and ulcerative colitis are the specific conditions on which AbbVie focuses its drug development.
AbbVie's ABT-494 (upadacitinib) is currently undergoing a Phase 3 trial after the success of its CELEST Phase 2 trial. In May 2017, AbbVie reported the successful evaluation of the safety and efficacy of upadacitinib, a JAK1-selective inhibitor, via its Phase 2 trial.
In the CELEST Phase 2 trial, among the 36 patients receiving 24mg of ABT-494 twice daily, eight demonstrated endoscopic remission. This number was a definite improvement, as none of the 37 patients receiving the placebo managed to achieve endoscopic remission.
Article continues below advertisement
Article continues below advertisement
Furthermore, among the 37 patients receiving 6mg of upadacitinib twice daily, ten patients, or ~27%, achieved clinical remission, and only 11% achieved clinical remission with the placebo. The secondary end-point results demonstrated that 61% of patients receiving ABT-494 achieved clinical responses, compared to only 32% of those who received the placebo.
According to the Centers for Disease Control and Prevention's (or CDC) estimates, ~1 million–1.3 million individuals in the United States suffer from inflammatory bowel disease (or IBD). The CDC estimated the prevalence of Crohn's disease to be ~26–199 cases per 100,000 individuals. The success of upadacitinib in AbbVie's Phase 3 trial will help to commercialize the drug and address a large patient pool.
General Medicine pipeline
AbbVie has been developing drugs in its General Medicine segment, which includes therapies for cystic fibrosis, diabetic nephropathy, endometriosis, and uterine fibroids.
AbbVie expects promising results from its drug elagolix in the treatment of uterine fibroids. The primary endpoint for the Phase 2b trial for the drug was to assess menstrual blood loss. Elagolix's response was quick, and it demonstrated a significant reduction in heavy bleeding compared to the placebo. The company expects to start a Phase 3 trial for the drug later in 2017.
AbbVie's peers in the immunology and general medicine market include Amgen (AMGN), Celgene (CELG), and Johnson & Johnson (JNJ). The growth in AbbVie's sales could boost the share price of the SPDR S&P Dividend ETF (SDY). AbbVie makes up ~1.7% of SDY's total portfolio holdings.