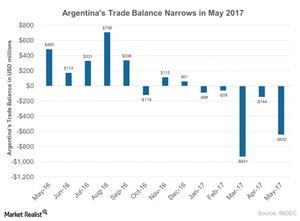 Surge in Imports Increases Argentina's Trade Deficit in May 2017
Argentina economy in 2017
Argentina (ARGT) posted a higher trade deficit for May 2017 at $642 million, mainly due to increasing imports as compared to its exports. Argentina's (AGT) economic growth in 2017–18 is mainly due to stronger consumption and public investment. The gradual rebound in private investment and exports are also expected to help in Argentina's economic recovery in 2017. However, the recent weaker performance of exports in May 2017 provides a sharp contrast to its improved expectations of economic growth in 2017.
According to IMF's estimate, Argentina's economy is expected to expand 2.2% and 2.3% in 2017 and 2018, respectively. Let's look at Argentina's trade balance over the last year in the below chart.
Article continues below advertisement
Trade balance deteriorates in May 2017
Argentina's trade balance saw a huge deficit at $642 million in May 2017 as compared to a $144 million deficit in the previous month. The deficit in May 2017 will seem much worse if compared with a $485 million surplus a year earlier. The deficit also exceeded the market expectations of a $50 million deficit for May 2017.
Export and import balances
Exports in May 2017 stood at $5,415 million, a 0.8% increase on a year-over-year basis as compared to the corresponding period last year. Manufacturing exports and fuels rose 23.2% and 11.3%, respectively, in May 2017 as compared to the same period last year. Meanwhile, imports jumped to $6,057 million in May 2017, a 24% increase as compared to the same period last year. Imports rose in May 2017 mainly due to a 67% surge in fuels and lubricants and a 52.7% increase in automotive vehicles.
High trade imbalance and impact
If the high trade imbalance persists for a long time, it could affect GDP growth and investments in Argentina (FM) in 2017. The iShares MSCI Frontier 100 ETF, which has high exposure to Argentina, has risen about 14% so far in 2017, as of June 23. However, the ETF has lost about 1% since the beginning of May 2017 until June 23, 2017.
Meanwhile, Argentina (FRN) is trying to finalize a free-trade deal to improve exports between the European Union (VGK) and the South American Mercosur by the end of 2017. The deal if completed can provide tremendous trade opportunities for the Latin American region (ILF).