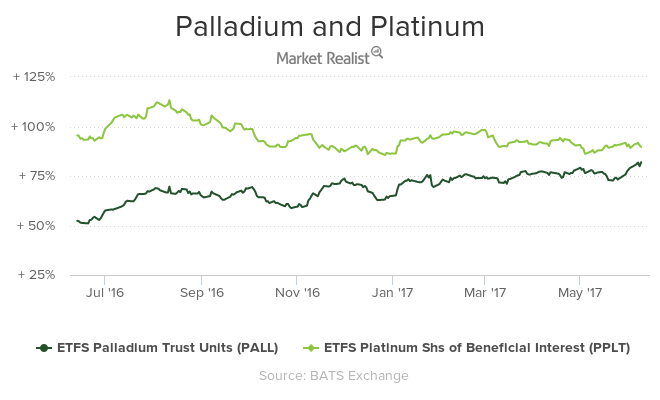 Palladium Skyrockets: A Look at What's in Store Next
Backwardation in palladium
Although gold and silver had a down day on Friday, June 9, 2017, platinum and palladium rose about 0.23% and 1.2%, respectively. Palladium hit its highest level in almost 16 years as the short-covering rally pushed the metal.
Palladium has likely broken its long-term resistance level, and the palladium market is in backwardation. Backwardation refers to a situation in which the spot or cash price of a commodity is higher than the forward price. The backwardation condition may also be an indicator of a possible near-term shortage of the metal.
Palladium ended the day at $860 per ounce after touching the day's high of $891.30. The historical call implied volatility of palladium was 30.5%, which was much higher than a normal trading day.
[marketrealist-chart id=2143015]
Article continues below advertisement
Dollar and metals
The above graph shows how platinum (PPLT) and palladium (PALL) have moved over the past six months. Palladium has maintained a steady upward trend and has risen about 8.4% on a 30-day trailing basis.On a year-to-date basis, it has risen a whopping 30.0%. The near-term supply for palladium may remain tight due to the ongoing scale in price and a possibility of a further rise.
These metals are also impacted by the rise and fall in the US dollar. The US dollar rose on Friday, June 9. Thus gold and silver fell. However, platinum and palladium weren't affected by their pricing currency.
Mining shares such as Silver Wheaton (SLW), Alamos Gold (AGI), B2Gold (BTG), and First Majestic Silver (AG) also had a down day on Friday due to falling metals.