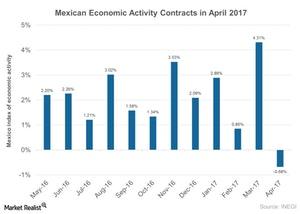 Mexico's Economic Activity in April 2017
By Mary Sadler

Updated
Economic activity in Mexico
Economic activity in Mexico (EWW) contracted 0.70% year-over-year in April 2017. The results were reported in June 2017. It was a sharp fall compared to the 4.3% rise in March 2017. Uncertainty about trade with the United States (SPY) continues to impact the Mexican economy in 2017.
You can see Mexico's economic activity index in the graph below.
Article continues below advertisement
Economic activity in April 2017
Economic activity in Mexico (UMX) faltered in April 2017 but is still slightly better than market expectations of a fall of 0.85%. The fall in April is the first contraction since June 2013. It's mainly due to a reduction in industrial production, which fell 4.4% compared to a 3.2% rise in March 2017. Primary activities also contracted 0.20% compared to a rise of 3.8% in March 2017. The services sector also rose less in April 2017 than the previous month.
On a positive note, economic activity rose 0.10% on a seasonally adjusted monthly basis compared to the previous month.
As an emerging market participant (EEM), Mexico is currently facing a number of problems, including high inflation and unemployment. The export-oriented economy is also currently facing a trade uncertainty due to the protectionist stance adopted by its largest trade partner, the United States (QQQ).
Investments
Despite these issues, equities in Mexico continue to rise in 2017 as trade-related uncertainties slowly fade. Mexican President Enrique Nieto has also instituted several political and economic reforms to boost foreign and domestic investments in Mexico (UMX). The iShares MSCI Mexico Capped (EWW), which tracks Mexican equities, rose about 5.0% in June 2017, as of June 28, 2017.
Let's look next at Mexico's monetary policy amid rising inflation.