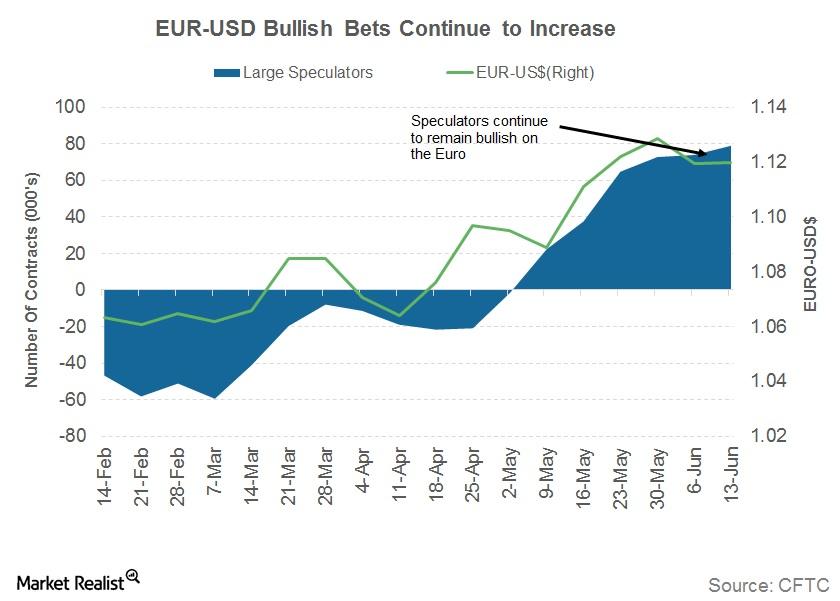 Is Long Euro the Theme for Forex Markets?
Narrow range continued for the euro
The euro (FXE) remained in a narrow trading range against the US dollar (UUP) between the levels of 1.130 and 1.115 for the last five weeks. The shared currency closed at 1.112 with gains of 0.02% against the US dollar in the previous week. The euro appreciated against the US dollar after the FOMC statement as markets digested the surprise from the US Fed. Economic data from the European Union came in as expected except for the German ZEW Economic Sentiment Index, which came in lower at 18.6 against a market expectation of 21.5. European inflation continued to improve with May inflation at 1.4%.
European indexes remained in the red in the previous week as markets digested the prospects of rising interest rates from the US. The German DAX (DAX) closed 0.49% lower in the previous week, while the SPDR Euro Stoxx 50 ETF (FEZ) closed 1.2% lower.
Article continues below advertisement
Long euro bets continue to increase
The net speculative bullish long positions on the euro continued to increase, according to this week's Commitment of Traders (or COT) report. There was an addition of 5,044 long euro contracts, taking the total net speculative long positions to 79,053. Currency traders keep betting that the euro will continue to appreciate as the outlook for the US dollar (USDU) is becoming murkier. An impressive rebound in European economic indicators, the possibility of a softer Brexit after the British elections, and stability in Europe's political climate are adding to the positive outlook for the euro.
Brexit talks set to begin
Brexit talks between the EU and the UK are scheduled to begin this week. Article 50 negotiations will begin on June 19, and the leaders of 27 EU countries will meet on June 22 to review the latest developments and discuss the steps for EU's exit from the UK. The economic calendar from the EU contains PMI readings as well as current account and balance of payment data.
In the next part of this series, we'll analyze how markets are positioned ahead of Brexit negotiations.