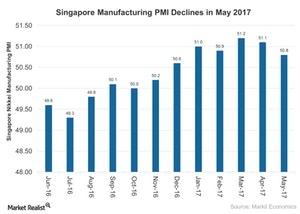 Inside Singapore's Manufacturing Sector: A 2Q17 Momentum Story
Singapore economy
Singapore's manufacturing sector is expected to rise in line with global (ACWI) (VT) manufacturing activity, which has shown improvement so far in 2017. Singapore's (EWS) manufacturing PMI (purchasing managers' index) data showed nine consecutive months of expansion as of May 2017 amid an improved global growth outlook for 2017.
In context, world growth is expected to increase from 3.1% in 2016 to 3.5% and 3.6% in 2017 and 2018, respectively, according to the IMF's (International Monetary Fund) April 2017 report.
Article continues below advertisement
Article continues below advertisement
Manufacturing activity in May 2017
As you can see in the chart above, the Singapore Manufacturing PMI, after a solid start in 2Q17, dropped to 50.8 in May 2017, as compared to 51.1 in April 2017, and stayed slightly below the market expectation of 50.9 for the month.
The private sector in Singapore showed slowing momentum in May, reflecting a slowdown in both output and new businesses. Manufacturing activity registered its weakest expansion in new orders, inventory, output, and employment since December 2016.
Electronics manufacturing
However, Singapore's electronics manufacturing PMI recorded its highest growth since 2014, rising to 52.4 in May 2017, as compared to 51.6 in April 2017. Top manufacturers in electronics manufacturing in Singapore include Flextronics International (FLEX) and GigaMedia (GIGM).
Purchasing activity also slowed in line with output and sales, though on a positive note, business confidence improved in May. Input costs slowed substantially, which led firms to raise product prices marginally.
Reasons for these slowdowns
According to the latest Markit report in June 2017, the decline in the Singapore Manufacturing PMI can be attributed to tough economic conditions and increased competition, which led to a slower rise in new sales in May 2017. Increased foreign demand from China (FXI) and Europe (EZU) was offset by lower export growth in Southeast Asia (ASEA). This slower expansion in the Singapore Manufacturing PMI in 2Q17 signals reduced economic activity, which is likely to impact Singapore's overall growth in 2017.