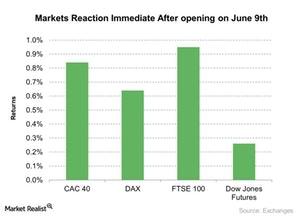 Immediate Impact of UK Election: Market Up, Volatility Down
Markets after the election outcome
After the announcement of the United Kingdom's election outcome on June 9, 2017, global markets showed mixed responses.
Major Asian indexes, Eurozone indexes, and US markets opened on positive notes.
Article continues below advertisement
Volatility
However, volatility showed a different picture on the day. The CBOE Market Volatility Index (or VIX), which measures volatility in the S&P 500 Index, had fallen nearly 3.7% on June 9 as of 9:30 AM EST. On the same day, VIX closed in positive territory.
During major events, VIX reacts differently. Recently, on May 17, 2017, we saw VIX rise nearly 46.3% in a single day. The increased volatility in the index last week was mainly the result of political factors.
The higher fluctuation in the volatility index is creating worries among investors. It's also increasing uncertainty about the market's future movements.
In the next part of this series, we'll analyze how the UK election's outcome could impact the overall business sentiment and Brexit negotiations.