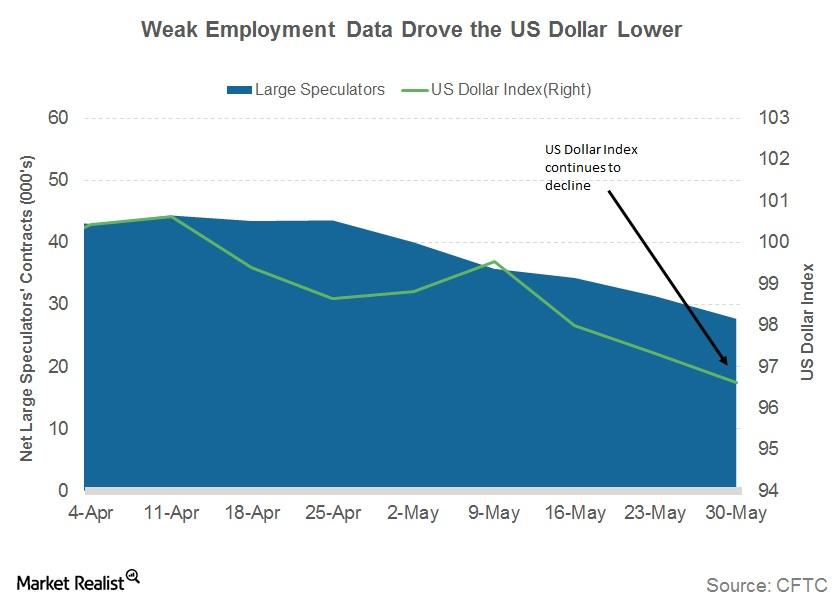 How the Weak Jobs Data Could Spell Doom for the US Dollar
US dollar is near pre-election levels
The US dollar (UUP) was the immediate focus following the weak US jobs data published on June 2, 2017. The payroll data was a negative surprise, with 138,000 jobs being added in May, as compared to the market consensus expectation of 182,000 jobs.
The previous month's jobs data was also lowered, and this didn't go well with currency traders. The US Dollar Index fell 0.77% the previous week and depreciated 2.01% overall in May. The index has seen a loss over the past five months and is nearing the pre-election low of 95.91 we saw in early November 2016.
Article continues below advertisement
Article continues below advertisement
The US Dollar Index is a measure of the value of the US dollar relative to a basket of these foreign currencies: the euro (FXE), the Japanese yen, the Canadian dollar (FXC), the British pound (FXB), the Swedish krona, and and the Swiss franc (FXF). The base year for the index is 1973 and began at 100.
Fed interest rate expectations remain stable
Despite the weak jobs report, markets continue to expect a 0.25% rate hike from the US Fed in its meeting on June 14. The majority of analysts, according to a recent Reuter's survey, continue to expect a rate hike decision during the next meeting, but most aren't sure whether we'll see another hike in September, noting that future rate hikes will depend on data going forward.
The expectation for a June hike was likely fueled by Fed members' apparent support in their recent comments.
External influence to be heavy on US dollar next week
Next week, the US economic calendar remains slim, with only services and non-manufacturing PMIs (purchasing managers' indexes) scheduled to be reported. The major focus of US dollar traders will likely be on the ECB's (European Central Bank's) policy meeting and the upcoming UK elections—both of which are scheduled on June 8. A hawkish ECB stance and an election victory for Teresa May in the elections would likely drive the US dollar lower.
In the next part of this series, we'll analyze what happened in fixed income markets last week.