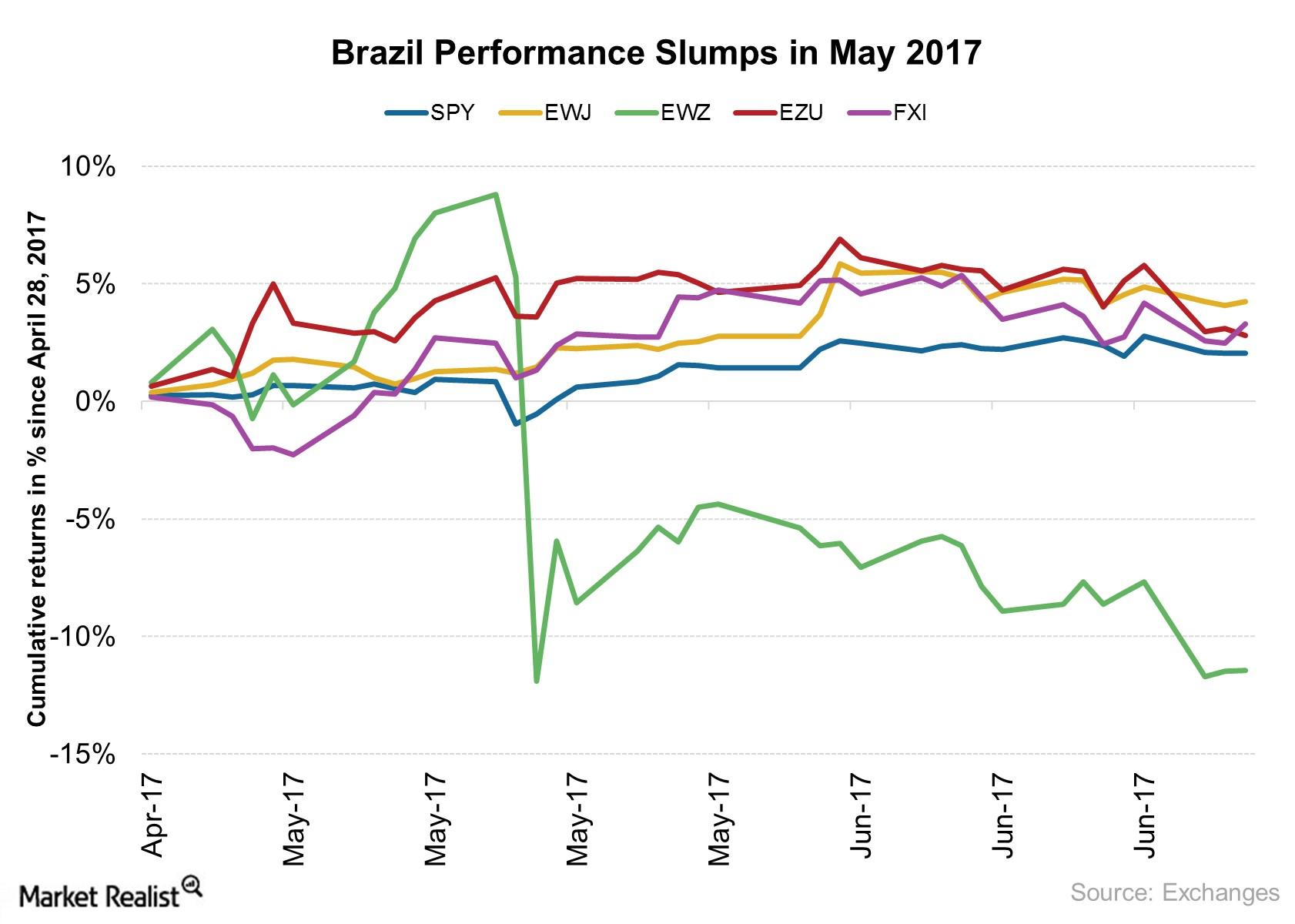 How Political Instability Affected Brazil's Stock Performance in May 2017
Brazil's market performance in 2017
Brazil's (EWZ) stock market performance seems to have taken a hit after several allegations against the country's interim president, Michel Temer, in the last few months. Brazil's (BRZU) stock market witnessed an impressive performance in the first several months of 2017.
However, political scandals seemed to have reversed the impressive gains of 1Q17 in May 2017. The decline in commodities and oil prices since the beginning of 2Q17 also impacted the performance of equities in May 2017. Let's look at the performance of Brazilian equities in the chart below.
Article continues below advertisement
Article continues below advertisement
Political instability impacts performance in May 2017
Brazil's government increased its spending in 1Q17 to lift the Brazilian (UBR) economy from its deep recession. Brazil also posted improved economic activity is 1Q17 compared to the last few quarters. However, the recent political scandals in Brazil seem to have affected its market performance in 2017.
The Brazilian benchmark index, BOVESPA, dropped ~4% in May 2017 following the allegations against Temer. The iShares MSCI Brazil Capped ETF (EWZ), which tracks Brazilian equities, also dropped ~11% in May 2017. Since the beginning of May 2017, EWZ has fallen ~11% through June 22, 2017.
Central bank's efforts to revive the economy
The Central Bank of Brazil reduced its interest rate in 1Q17 to support the country's recovery. The International Monetary Fund (or IMF) is projecting 0.5% growth in Brazil's GDP output in 2017, according to its April 2017 outlook report.
However, the positive performance of economic indicators such as GDP and trade balance don't seem to be helping Brazil's declining stock markets in 2Q17.
Equities performance of Brazil and other developed markets
If the weak performance of Brazilian stocks continues in 2017, investors can see a reversal of the large gains realized last year. The US and Japan have been leading ETF returns over the last few years. The exception to this trend occurred in 2016, when Brazil posted gains exceeding 50%.
In contrast to Brazil in May 2017, the US (SPY), Japan (EWJ), Europe (EZU), and China (FXI) have seen returns of about 1%, 3%, 5%, and 4%, respectively.
In the next article, we'll look at Brazil's exports in.