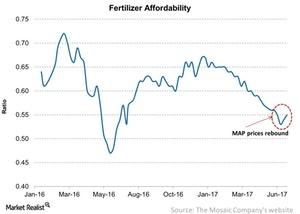 Fertilizers Were Affordable for the Week Ending June 23
Fertilizer affordability
According to the Fertilizer Affordability Index, 2017 has been one of the most affordable years for fertilizers. The Fertilizer Affordability Index is issued by Mosaic (MOS). The index shows the relation between fertilizer prices and crop prices.
Article continues below advertisement
Weekly movements
Last week, the Fertilizer Affordability Index rose as much as 1.9% week-over-week to 0.55x from 0.54x. A ratio below one indicates that fertilizers were more affordable than the base year—in this case, the base year was 2005 when the ratio was indexed to one. Compared to the same week last year, the Fertilizer Affordability Index was 6% higher from 0.52x.
Fertilizers remain affordable mainly due to falling fertilizer prices. Excess capacity pushing prices down resulted in many producers (NANR) lowering their production or even consolidating to achieve synergies. Players such as PotashCorp (POT), CF Industries (CF), Intrepid Potash (IPI), and CVR Partners (UAN) have all seen their earnings fall due to prices having a negative impact on their top lines.
For the latest updates, visit Market Realist's Agricultural Fertilizers page.