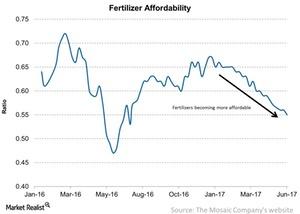 Why the Fertilizer Affordability Index Was Lower Last Week
Fertilizer affordability
So far in this series, we discussed fertilizer movement for the week ending June 2. In this part of the series, we'll discuss how the Fertilizer Affordability Index moved. The index shows how fertilizer prices compare to crop prices. A lower index level means more affordable fertilizers.
Article continues below advertisement
Fertilizer Affordability Index
The Fertilizer Affordability Index, compiled by Mosaic (MOS), has shown a downward trend since the beginning of the year. Fertilizers have become more affordable in 2017 compared to 2005—the base year of calculation. Higher affordability (lower index levels) usually supports higher fertilizer demand.
Last week, the Fertilizer Affordability Index stood at 0.55x, which fell week-over-week from 0.56x. Compared to the same week last year, the Fertilizer Affordability Index was higher from 0.49x. Looking at the above graph, the Fertilizer Affordability Index reached its lowest point in May 2016. Any point lower than one means that fertilizers are more affordable compared to the base year.
Fertilizer companies such as Israel Chemicals (ICL), CF Industries Holdings (CF), and CVR Partners (UAN) lowered their production costs and offered deep discounts to farmers (NANR).
For ongoing details and updates on the industry, visit Market Realist's Agricultural Fertilizers page.