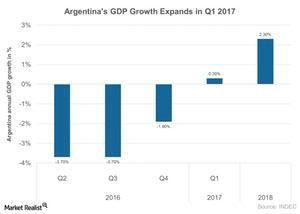 Did Macri's Efforts Boost Argentina's Growth in 1Q17?
Argentina's economy in 2017
Latin America's (ILF) second-largest economy appears to be on the path to recovery. The country's economy expanded in 1Q17 after consecutive contractions over the last three quarters. As per the World Bank report from June 7, 2017, the economic growth of Argentina, which has frontier market (FM) status, is projected to rise to 0.8% in 2017. Latin American economies like Brazil (EWZ) and Argentina (ARGT) are expected to emerge from recession in 2017. High inflation and political issues affected economic activity in these economies in 2016. Now let's look at Argentina's GDP growth over the last year in the below chart.
Article continues below advertisement
GDP growth in 1Q17
Argentina's (FRM) economy rose 0.3% on a year-over-year basis in 1Q17 as compared to the 1.9% decline in the previous period. It also exceeded the market expectations of 0.1% growth in 1Q17. The investments increased in 1Q17 by about 3% after contracting 5.9% in 4Q16. The private and public spending also expanded 0.9% and 1%, respectively, in 1Q17 as compared to the previous quarter. However, the exports fell by ~1.8% in 1Q17, after increasing by about 7.7% in the previous quarter. Meanwhile, imports grew faster at 4.3% in 1Q17 as compared to 3.5% in the previous quarter.
President Macri's reforms
President Macri took office with a number of issues including the excessive capital and currency controls, an increasing fiscal deficit, and debt defaults. President's Macri aimed to resolve these issues over the past 16 months through several efforts including the revamping of its discredited economics statistics agency. Despite these efforts, President Macri's popularity remains low, as these reforms haven't been very labor friendly. However, President Macri lately has slowed cuts in social spending and delayed the end of domestic subsidies to garner much-needed support from its people.
The Global X MSCI Argentina ETF (ARGT), which tracks the largest and most liquid securities with exposure to Argentina, has risen ~10% so far in 2017 as of June 23.
Let's look at consumer confidence in Argentina in our next article.