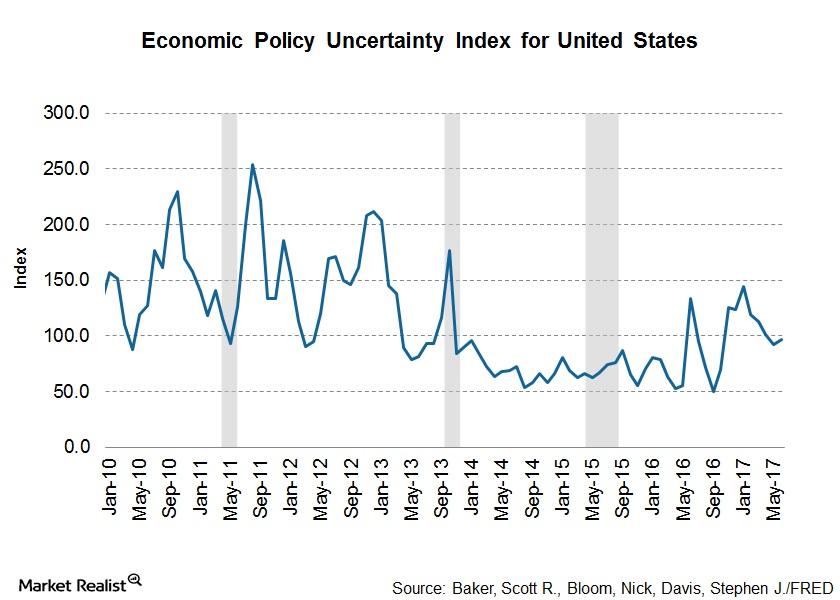 Dallas's Kaplan Discusses the Biggest Headwind for the US Economy
<p>Dallas&#8217;s Federal Reserve president, Robert S. Kaplan, said that the rebound in the US economy is likely to continue for the rest of 2017. </p>
Kaplan sees a rebound in economic growth
Dallas's Federal Reserve president, Robert S. Kaplan, said that the rebound in the US economy is likely to continue for the rest of 2017. However, he sounded cautious about inflation's being muted in recent months.
Economic policy uncertainty remains low in the United States because the Federal Open Market Committee (or FOMC) has become transparent with the market in preparing it for policy changes.
Article continues below advertisement
Article continues below advertisement
Demographics the biggest headwind
According to Kaplan, the biggest headwind to US economic growth could be demographics. He feels that the United States may have to come to an understanding about immigration. If this isn't the desired route, the country will have to integrate with the rest of the world.
Deficit in Mexico will add more jobs in the United States
Kaplan is of the view that a trade deficit with neighbor Mexico could be beneficial for the US economy, as it would lead to more US jobs (SPY). He's confident that the US government (GOVT) can renegotiate trade agreements with Mexico and Canada (EWC), but he sees the process as complicated with Mexico (EWW) due to recent events such as President Donald Trump's plan to build a wall along the Mexican border.
To summarize, Kaplan said that the United States (AGG) is moving closer to full employment, and he doesn't believe that trade or immigration will have negative effects on US employment conditions.
In the next part of this series, we'll try to understand why Minneapolis's Fed president voted against a rate hike at the FOMC's June 2017 meeting.