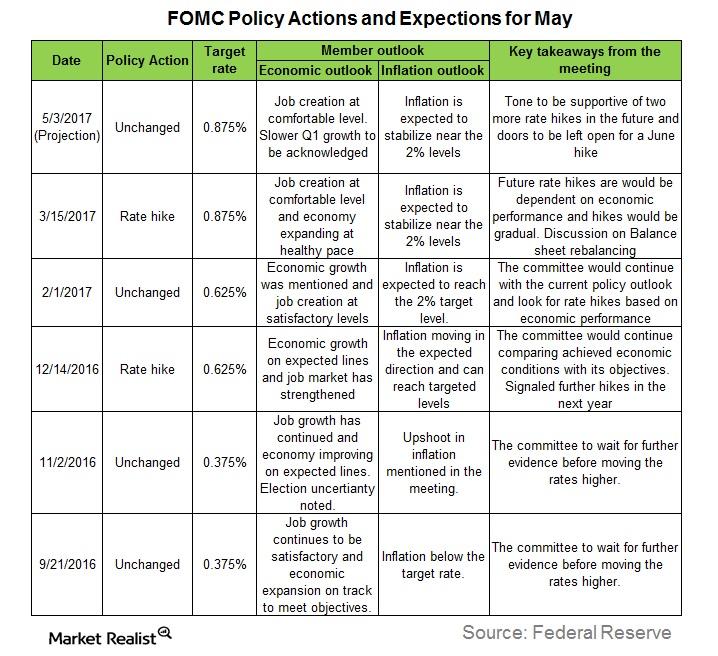 Will the FOMC Remain Hawkish?
What can we expect from this month's meeting?
In the May meeting, which is scheduled for May 2–3, markets don't expect any surprises from FOMC members. There is no expectation of a rate hike announcement nor any hints about future rate hikes. A press conference won't follow this meeting. The Fed will only release a statement, which is unlikely to include any major policy guidelines.
In its last meeting in March, the Fed increased interest rates (SCHZ) by 0.25% and sounded hawkish about the US economy. To learn more about the minutes from the previous FOMC meeting, read our series Your Update on the FOMC March Meeting Minutes.
Article continues below advertisement
Article continues below advertisement
How has the US economy performed since the last meeting?
Economic data from the US in recent months has been mixed. The Q1 GDP data indicated that the US economy rose at a slower pace of 0.7% in the first quarter. The inflation outlook should continue to be optimistic with the members reiterating confidence that inflation could reach the 2% target level in the near future backed by the recent CPI (TIP) (VTIP) and personal consumption expenditures data. Fed members are likely to acknowledge the slowdown in the US economy in Q1 and could call it a marginal softening, but the statement is likely to keep the doors open for another two rate hikes this year. There could be some volatility in the bond (BND) and currency markets (UUP), but affairs are likely to turn normal once the policy statement is released.
In the next part of this series, we'll review the recent policy statement from the ECB.