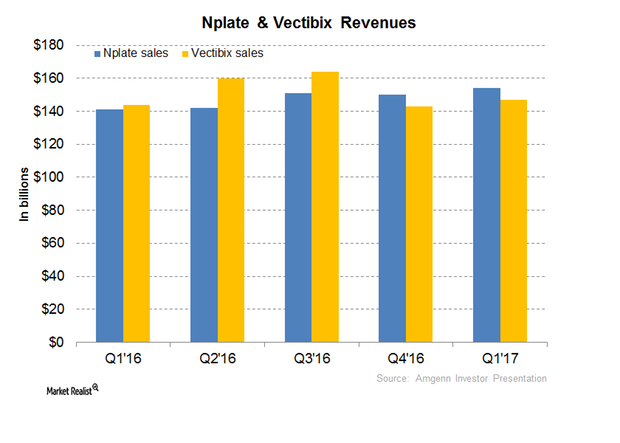 Nplate and Vectibix Could Contribute to Amgen's Revenue Growth in 2017
Nplate and Vectibix 1Q17 revenue trends
In 1Q17, Amgen's (AMGN) Nplate generated revenues of ~$154 million, which reflected a year-over-year growth rate of 9%. Higher unit demand was the primary reason for Nplate's revenue growth. The US accounted for ~63% of Nplate's global market share.
During 1Q17, Vectibix generated revenues of ~$147 million, which reflected year-over-year growth of 2% and quarter-over-quarter growth of 3%. In 2016, Nplate and Vectibix generated net sales of ~$584 million and $611 million, respectively. Both drugs witnessed nearly 11% year-over-year growth compared to 2015.
Article continues below advertisement
Nplate profile and indication
Nplate (romiplostim) is a thrombopoietin receptor agonist prescribed for the management of thrombocytopenia in patients with chronic immune thrombocytopenia. The drug is administered only to patients who manifested poor response to corticosteroids, immunoglobulins, and splenectomy.
In its Phase 3 trials, the drug significantly increased the platelet count in patients with chronic immune thrombocytopenia. Nplate faces robust competition from Novartis's (NVS) Promacta/Revolade, which also holds a considerable market share in this segment.
Immune thrombocytopenia is a type of thrombocytopenia purpura characterized by isolated low platelet count but normal bone marrow and no symptoms of other causes of thrombocytopenia. Immune thrombocytopenia (or ITP) has an incidence rate of 50–100 new cases per million population. Children account for half of the patient population. ITP is chronic among adults, and durable remission probability is ~20%–40%.
Article continues below advertisement
Vectibix profile and indication
Vectibix (panitumumab) is an epidermal growth factor receptor (or EGFR) antagonist monoclonal antibody indicated for wild-type KRAS (exon 2) metastatic colorectal cancer (or mCRC). The drug is used in combination with Folfox when utilized as a first-line therapy.
According to the Centers for Disease Control and Prevention, ~36,119 individuals in the US were diagnosed with colorectal cancer in 2013. The National Cancer Institute's Surveillance, Epidemiology, and End Result (or SEER) program estimated that ~135,430 new incidences of colorectal cancer were expected in 2016, which depicts the large addressable market for the drug in the US alone. Vectibix is not administered in patients with RAS-mutant mCRC.
The large patient pool and efficacy of the drug is the primary reason for the growing sales of the drug. The drug is facing stiff completion from Roche Holdings' (RHHBY)[1. through its subsidiary Genentech] Avastin and Eli Lilly's (LLY) Erbitux. Presently, Bristol-Myers Squibb (BMY) distributes Erbitux in the US and Canada, while Merck KGaA distributes the drug outside North America.
The sales growth of Vectibix and Nplate is expected to propel Amgen stock and the Vanguard High Dividend Yield ETF (VYM). Amgen makes up ~1.3% of VYM's total portfolio holdings.