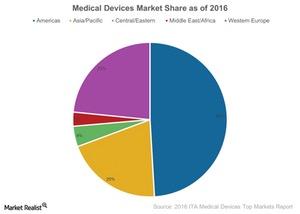 Is Medical Technology Driving the US Healthcare Industry?
Innovation in medical care
The US is a key contributor to most advanced technological innovations in the global healthcare industry. According to Cleveland Clinic CEO Dr. Toby Cosgrove, technological advancement in the healthcare sector is going to increase the human life expectancy. Some of the leading US-based companies embarking on continuous innovation include Johnson & Johnson (JNJ), Abbott Laboratories (ABT), Medtronic (MDT), and Boston Scientific (BSX).
US medical device companies are regarded highly for their innovation and high technological products across the globe. Let's look at medical device companies' market share globally.
Article continues below advertisement
Technological advancement
The US medical device industry is a global leader. Its market was valued at ~$140 billion for 2016. It represents ~45% of the global market, according to 2014 statistics from the Government Accountability Office in the US.
Due to continuous improvement in medical technology over the years, segments including patient care, health diagnosis, and treatments improved drastically. Changes in medical technology include new medical and surgical procedures, drugs, medical devices, and new support systems.
With advancement in medical technology, the mortality rate from heart attacks fell from 345.2 per 100,000 people in 1980 to 186 per 100,000 people in 2000, according to a study by the CDC. Better tests have become available over the years to diagnose heart attacks including drug-eluting stents and new drug strategies. These products and strategies help with long-term management of heart attack patients and potential heart attack patients.
According to Cosgrove, technological advancement has been the major value creator for the healthcare sector. Innovations are expected to pave the way for new companies and create new markets in the future.
Investments
Healthcare ETFs invest in stocks of companies engaged in the healthcare industry. These companies are involved in sub-sectors like biotech, pharmaceuticals, hospitals, and medical device makers. The Health Care Select Sector SPDR Fund (XLV) tracks healthcare stocks in the S&P 500 weighted by market capitalization. XLV is the oldest and largest fund in this segment. As of May 22, 2017, XLV has risen ~10% in 2017. Another major ETF in the sector is the Vanguard Health Care Index Fund (VHT), which rose ~11% during the same period.