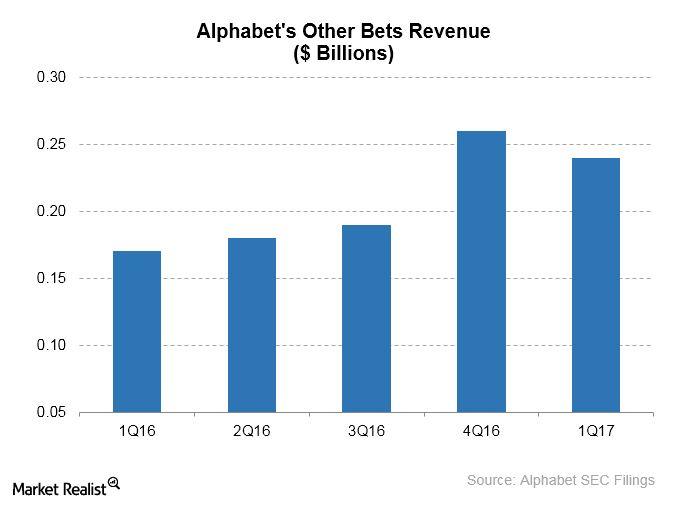 Is Alphabet on the Verge of Shrinking Verily?
By Neha Gupta

May. 17 2017, Updated 1:44 p.m. ET
Thomas Insel exits Verily
Alphabet (GOOGL) recently released another high-profile executive from its Other Bets segment, raising more questions about what's going on in the company's experimental businesses. CNBC reported on May 8, 2017, that Thomas Insel, who was an executive in Alphabet's Verily division, left in April.
Verily is part of Alphabet's Other Bets businesses and focuses on developing healthcare technologies. The business was initially called Google Life Sciences. At Verily, Insel was heading an initiative to build new technologies to tackle mental health issues such as anxiety and depression. Insel joined Alphabet from the National Institute of Mental Health.
Article continues below advertisement
A profitable business
Verily generates revenues by licensing its technologies to healthcare companies and medical institutions. For instance, it had a partnership with pharmaceutical firm Novartis (NVS).
Although the Other Bets segment is unprofitable as a whole, Alphabet hinted in 2016 that Verily as a business is profitable on a "cash basis." Other Bets produced revenues of $244.0 million and posted a net loss of $855.0 million in 1Q17. The chart above illustrates Other Bets' quarterly revenue trends.
Executive exits followed by downsizing
Alphabet's operations that contribute to Other Bets include high-speed Internet operation Google Fiber, autonomous driving business Waymo, and smart home systems developer Nest.
Several of these Other Bets businesses have recently witnessed high-profile executive exits, and such executive departures have sometimes been followed by the downsizing of the businesses. Therefore, it is unclear whether Insel's departure signals that Verily is being prepared for restructuring.
The Other Bets segment is part of Alphabet's efforts to diversify its revenue streams beyond online advertising as it faces tough competition from Facebook (FB), Snap (SNAP), and Twitter (TWTR) in the advertising market.