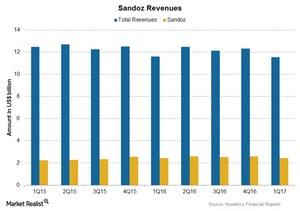 Inside Novartis's Generics Business Now
Sandoz, the generics business
Sandoz includes the generics product portfolio of Novartis (NVS) and is the leading generic medicines provider worldwide. Sandoz is also a leader in differentiated generics. The segment's contribution made up ~21% of the company's total revenues in 1Q17.
Article continues below advertisement
Article continues below advertisement
Sandoz's revenues
Sandoz reported operational growth of 1% in its 1Q17 revenues at $2.43 billion. This growth was driven by a volume growth of 9%, which was substantially offset by an 8% decline due to price erosion. Revenues were driven by biosimilars and Glatopa.
Geographical performance
For 1Q17, Sandoz reported nearly flat revenues for US markets at $861 million, while it saw 2% operational growth in European markets to ~$1.1 billion.
Emerging markets reported a 1% operational decline in revenues in 1Q17, while markets in Asia, Africa, and Australasia reported a 5% operational decline in 1Q17 revenues due to the slowdown in China and lower revenues from contract manufacturing.
Article continues below advertisement
Biopharmaceuticals
Biopharmaceuticals include revenues from the biosimilars, biopharmaceutical contract manufacturing, and Glatopa. Biopharmaceuticals reported 30% operational growth to $274 million, driven by the strong performance of Glatopa and Zarxio in US markets. Glatopa, an injection for multiple sclerosis, is the first generic version of Teva Pharmaceuticals's (TEVA) Copaxone 20 mg.
Retail generics
NVS's retail generics reported a 2% operational decline in its 1Q17 revenues to $2 billion. The decline was driven by lower sales in US markets, partially offset by increased sales outside US markets.
Anti-infective products
NVS's anti-infective franchise revenues were nearly flat at $348 million in 1Q17, but the discontinuation of its low-margin products impacted the overall decline in revenues from anti-infective products.
To divest risk, investors can consider ETFs like the VanEck Vectors Pharmaceutical ETF (PPH), which has ~7.9% of its total assets in Novartis. PPH also has 10.3% of its total portfolio in Johnson & Johnson (JNJ), 4.6% in AstraZeneca (AZN), and 4.1% in Teva Pharmaceuticals (TEVA).