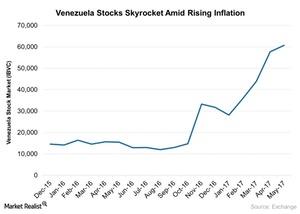 How Venezuela's Social Crisis Is Threatening Growth
By Mary Sadler

Nov. 20 2020, Updated 12:29 p.m. ET
Venezuela is nearing a total collapse
The social and economic crisis in Venezuela has resulted in food and medicine shortages, a crippled economy, record high inflation, and falling oil prices. Venezuela President Nicolás Maduro recently announced that he would change the country's constitution, and many Venezuelan people are now demanding an election to remove the leftist leader, which has resulted in a people's movement against the administration.
This Latin American (ILF) country's inflation rate is believed to be the world's highest, though no official data has been published for more than one year. Venezuelan inflation as of April 2016 was at 92.8%, according to the country's opposition-led Congress.
Article continues below advertisement
Venezuela's stock market performance
However, Venezuelan stocks have skyrocketed in 2017 so far, rising about 90%. In 2016, the Venezuela's benchmark index posted gains of about 117%. But these number could be deceiving, considering the state of the Venezuelan economy and the following factors:
the collapse of the Venezuelan bolivar
restrictive currency controls
continuous rising inflation
low foreign exchange reserves
a rising fiscal deficit, which can lead to bankruptcy
its rising debt to China (FXI)
Why the rise in the Venezuelan stock market?
To some extent, the rise in Venezuelan stock market could also be due to the fear of the constant devaluation of the bolivar, with no other attractive investment avenues available to investors in a crisis-struck economy. However, the inflation-adjusted returns on the stock investments might give a different picture amid surging inflation.
Article continues below advertisement
Rising inflation
Venezuela's administration stopped releasing official macroeconomic data in 2016. But economists polled by Reuters are predicting an inflation rate of 108% as of 2015. The inflation rate has been on a continuous rise, to be sure, with rampant money printing and the recovery of oil prices toward the end of 2016. The bolivar has fallen 99% on the black market against the US dollar (USDU) (UUP) since 2013.
The country is now going through a major economic and social crisis, fueled by daily protests between security forces and protestors, who want to see President Maduro ousted. This increased instability in Venezuela's economy is expected to impact its economic growth going forward.
Investments in Venezuela
A few international funds have access to the Venezuela market. ETFs with exposure to Venezuela include the iShares J.P. Morgan USD Emerging Markets Bond Fund (EMB), which had about 4.7% in Venezuela debt as of December 2016. The WisdomTree Emerging Markets Corporate Bond Fund (EMCB) has about ~2.5% exposure to Venezuelan debt.
For more on manufacturing activity in emerging markets, check out Market Realist's series Interpreting April's Emerging Market Manufacturing PMIs.