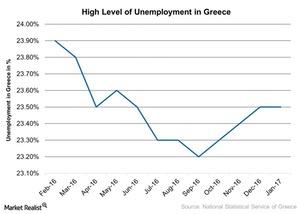 Greece's Unemployment Falls, but Still the Highest Among Peers
Subdued economic activity in Greece
Economic activity in Greece (GREK) has long been subdued, especially if we compare it to its European peers such as Italy (EWI), Ireland (EIRL), Spain (EWP), and Portugal (PGAL). Since the financial crisis of 2008, the Greek government has continually tried to improve its economic performance with the help of bailout funds and reforms with austerity measures imposed by its creditors. The impact of significant economic adjustments and austerity measures has resulted in high poverty and unemployment in the country.
You can see Greece's dismal unemployment levels over the last few years in the graph below.
Article continues below advertisement
Labor conditions in Greece have worsened
Currently, Greece has the highest level of unemployment in the European Union (VGK) (IEV). Europe's average unemployment has fallen to a four-year low of 9.8% as of 2016. Greece's seasonally adjusted unemployment rate was 23.5% in January 2017 compared to 24.3% in the same period last year. The unemployment rate in Greece averaged 15.7% from 1998 until 2017.
Greece also has the highest debt burden in the European Union at about 179.0% as of 2016. Its economy contracted 1.2% in 4Q16, whereas the average GDP in the Eurozone rose 0.40% in the fourth quarter of 2016.
Economic impact of high unemployment
The increasingly high level of unemployment in Greece is worrisome, especially when the country is trying to emerge from its economic slowdown. Labor reforms were one of the main points of contention while negotiating the recent bailout deal.
The IMF (International Monetary Fund) wants to get more deregulation in Greece's labor market and doesn't want to roll back previous labor reforms. But Prime Minister Alexis Tsipras wants to restore union powers to negotiate wages. If all parties in the third bailout deal don't come to an agreement, Greece could likely default on its debt and exit the European Union.
On April 7, 2017, Greece agreed with its lenders on the main labor reforms, moving closer to finalizing a deal before its meeting with the Eurozone's finance ministers in May 2017. Labor and market reforms are expected to support Greece's economic growth.
Market impact
The recent preliminary bailout deal has led to a market swing on the positive side, driving Greek government bond yields to multiweek lows. The ten-year bond yield fell about 16.0% in 1Q17. The Global X FTSE Greece 20 ETF (GREK), which tracks the MSCI All Greece Select 25/50 Index, rose about 2.0% in 1Q17. The index is comprised of the top 20 companies in Greece and tracks broad-based equity market performance in Greece. GREK is currently invested in the equities of Alpha Bank (ALBKY), Hellenic Telecommunication Organization (HLTOY), National Bank of Greece (NBGGY), Jumbo SA (JUMSY), and others.
To find out more, be sure to read Greece: Situation Unknown.