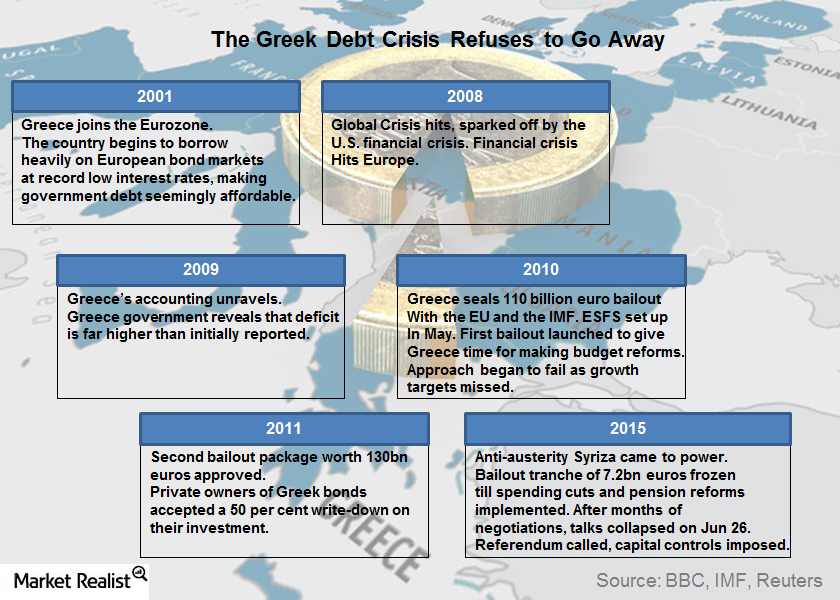 The Greek Debt Crisis Refuses to Go Away
Russ provides his short- and long-term outlook for Greece, explaining why the country will likely continue to be a source of headline risk for the foreseeable future.
Last week, a journalist began our conversation by saying, "Whatever is on your mind, promise me we're not going to talk about Greece." After more than five years of a Greek drama that would have made Sophocles proud, most of us have become fatigued with hearing and reading about Greece's debt problems. The Greek debt crisis refuses to go away.
But unfortunately, despite our fatigue, the Greek saga continues to influence investor behavior. Over the past several weeks, each development in Greece's ongoing negotiations with its creditors precipitated a significant rally (last week) or precipitous drop (this week). Greece's government added to the uncertainty over the weekend by scheduling a referendum on July 5th, after their financial support program has ended. Greece has now had to introduce capital controls and a bank holiday, and will be in technical default on its 1.5 billion euro payment due to the IMF Tuesday.
Article continues below advertisement
Market Realist:
Headlines emerging out of Europe (FEZ) (IEV) have been nothing short of dramatic lately. Greece (GREK) has been reeling from the crippling effects of an austerity-laden economy for the past five years. Despite a slew of tough negotiations, acrimonious summits, and intense political brinksmanship, the Greece debt crisis refuses to go away. Greece continues to flirt with financial disaster.
Greek Prime Minister Alexis Tsipras walked away from negotiations this weekend and called for a referendum from his people on July 5. This surprising turn of events has sharply raised the probability of a Grexit. Greece could become the first-ever nation to leave the Eurozone (EZU), a possibility that has seriously shaken global markets (ACWI). The days to come are likely to be fraught with volatility as the endgame for Greece is finally in sight.
In this series, we will explore both the short-term and long-term outlook for Greece and the Eurozone.