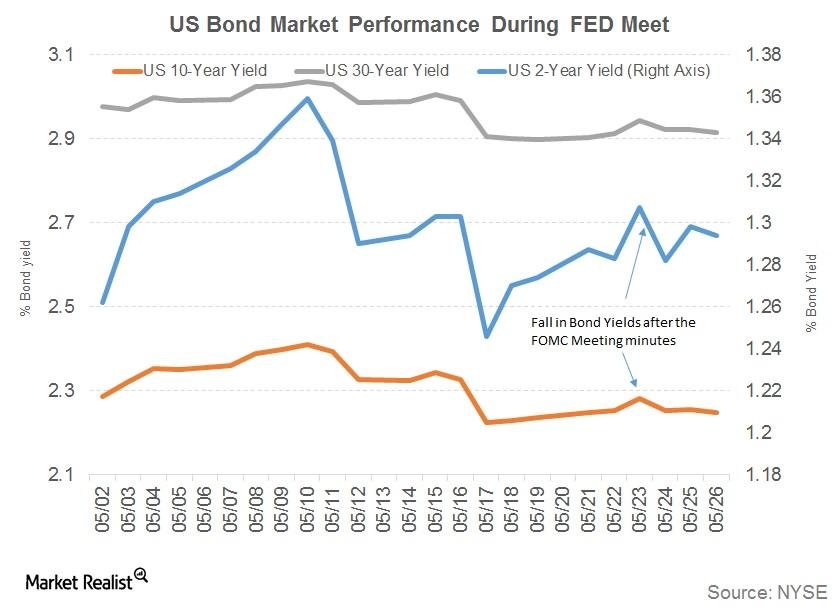 Why Did Bond Yields Fall after the FOMC's Meeting Minutes?
Bond traders weren't prepared
Bond (BND) traders weren't prepared for the FOMC's meeting minutes. Expectations were biased for a rate hike in the June meeting based on the Fed's statement after the meeting on May 3. The meeting minutes suggested that members were concerned about the slower US economy in the recent quarter. Due to members' concerns, investors reduced the chances of a rate hike in June. Bond yields extended their pullback after the FOMC minutes were published. The ten-year (IEF) yield fell to 2.3%, while the two-year (SHY) and 30-year (VGLT) yields moved towards 1.30% and 2.9%, respectively.
Article continues below advertisement
Watching incoming data 
According to the FOMC's meeting minutes, policymakers wanted to wait for more data before making a call on a rate hike. Since the last meeting, US economic data have been mixed. There were disappointments in the trade deficit, retail, and wholesale inventories. Employment numbers continued to impress with 234,000 claims in the third week of May. Non-farm payrolls for May will likely remain close to the 2017 average—a monthly gain of 186,000. Mixed numbers could act as a speed breaker for the Fed's rate hike path.
Fed's balance sheet reduction plans
Michael Feroli, J.P. Morgan's economist, thinks that the Fed could start reducing the size of its balance sheet in December. Reducing the balance sheet would increase the supply of US Treasuries and mortgage-backed securities (MBB). The Fed is expected to reduce the size of its balance sheet from the current level of $4.5 trillion to about $3 trillion. The impact of the move would start to be priced in at a later date because the Fed's plans aren't certain. Reducing the balance sheet is contingent on the US economy continuing to improve consistently.
The FOMC's meeting minutes in May increased speculation about whether there will be a rate hike in June. We expect that markets will remain volatile until the event. Every data release will have an impact on the June policy decision.