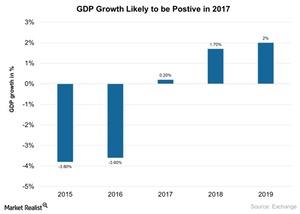 Why IMF Slashed Brazil's Economic Growth Outlook in 2017
Growth expectation for Brazil in 2017
Economic activity in Brazil (EWZ) has been slow as it tries to emerge from its deep recession in 2016. Political uncertainty has diminished to some extent, leading to improved consumer and business confidence in 2017. Let's take a look at GDP growth as updated in the recent IMF (International Monetary Fund) outlook report and as shown in the graph below.
Article continues below advertisement
Brazil's economy contracts in 4Q16
The IMF has slashed its 2017 growth forecast for Brazil by more than 50.0%. That was due to weaker-than-expected activity in Latin America's (ILF) largest economy in the last quarter of 2016. According to IMF's latest World Economic Outlook, Brazil (BRZU) is expected to grow 0.20% in 2017, compared to the earlier forecast of 0.50%. Investors will probably welcome the reduced expectations until the country stays in positive territory.
Reason for reduced growth expectations
Brazil's economy contracted 2.5% on a YoY (year-over-year) basis in 4Q16 compared to a fall of 2.9% in 4Q15. The contraction was mainly due to sharp falls in both household consumption and fixed investment in 4Q16. Most of the sectors posted decreased activity, with a fall in exports of about 7.6% YoY as of 4Q16.
The recent appreciation of the real also seems to have affected exports in 4Q16, which will most likely impact exports in 2017. Brazil's annual GDP fell 3.6% in 2016 compared to a fall of 3.8% in 2015. The IMF also reduced its GDP growth outlook for Brazil and toned down its optimism about the government under President Temer.
Article continues below advertisement
Market performance
The iShares MSCI Brazil Capped (EWZ), which tracks Brazilian stocks, rose more than 60.0% in 2016. Former President Dilma Rousseff was successfully impeached in late August 2016 amid several corruption charges surrounding the government. Her dismissal increased consumer confidence in Brazil since Temer, the new president, was likely to introduce pension and labor reforms. Pension reforms are expected to reduce the pension deficit as well as the public deficit.
The iShares MSCI Brazil Capped (EWZ) rose about 9.0% in 1Q17. Among Brazilian equities trading in the United States, state-controlled oil producer Petroleo Brasileiro (or Petrobras) (PBR) fell about 11.0% in 1Q17 amid the corruption scandals. Itau Unibanco Holding (ITUB) and mining giant Vale (VALE) rose about 15.0% and 16%, respectively, in 1Q17.
In line with Brazil's stock market, Brazil's currency surged in 2016. Let's have a look next at the performance of Brazil's real in 2016.