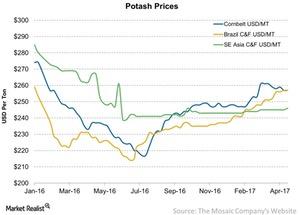 Potash Prices Showed Weakness for the Week Ending April 21
Potash prices
Last week, potash prices continued to show weakness week-over-week. Prices were broadly flat to positive for the week ending April 21. In this part, we'll discuss potash prices at the three locations below.
Article continues below advertisement
Weekly prices
Last week, overall prices of potash (or muriate of potash) rose by an average of 14 basis points week-over-week. Potash prices at Southeast Asia rose slightly by 41 basis points to $246 per metric ton from $245 per metric ton.
However, prices at the US Cornbelt region remained flat week-over-week at $257 per short ton (or $233 per metric ton). Similarly, prices at Brazil also remained flat week-over-week at $257 per metric ton.
Key to potash producers
PotashCorp (POT), Intrepid Potash (IPI), Mosaic (MOS), and Israel Chemicals (ICL) benefited from positive moves in potash prices. Potash prices are important for producers (MOO). Companies faced severe weakness in the market in 2016. On average, while prices remained flat to positive last week, overall potash prices at the above locations were 10% higher year-over-year compared to the same week in 2016.
PotashCorp and Agrium will be reporting their earnings in the coming week. Read What to Expect from PotashCorp's 1Q17 Earnings and What's in Store for Agrium's 1Q17 Earnings? to learn more.
In the next part, we'll discuss how the Fertilizer Affordability Index performed last week.