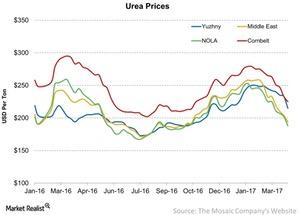 Why Did Urea Prices Fall Last Week?
By Adam Jones

Apr. 3 2017, Updated 9:08 a.m. ET
Urea
Lately, urea prices have been under pressure due to excess capacity. Prices continued to show signs of ongoing weakness last week. For the week ending March 31, urea prices were broadly negative week-over-week.
Urea is one of the most popular nitrogen fertilizers used globally. Although a portion of anthracite facilities in China have been shut down, new thermal capacity has been added. The new capacity had a net positive impact on capacity growth in the region which pushes down the price. Let's see how urea prices performed last week.
Article continues below advertisement
Granular urea
Last week, the movement in granular urea prices was negative week-over-week at the three locations in the above chart. Average urea prices fell 5.1% from the previous week. Granular urea prices NOLA (New Orleans) fell 6.9% to $171 per metric ton—compared to the previous week. In the Middle East, granular urea prices fell 4.9% to $194 per metric ton week-over-week. Prices in the US Corn Belt fell 3.4% week-over-week to $204 per metric ton.
Urea is one of the most frequently used nitrogen fertilizers (SOIL) globally. According to the International Fertilizer Industry Association, urea accounts for 56% of all the nitrogen fertilizers consumed globally. CF Industrial Holdings (CF) is one of the largest nitrogen fertilizer producers.
Companies such as CF Industrial Holdings, Terra Nitrogen (TNH), CVR Partners (UAN), and PotashCorp (POT) are impacted by how nitrogen prices move. Granular urea prices at the three locations in the above chart fell 18% YoY (year-over-year).
Prilled urea
In the week ending March 31, prilled urea prices fell 7.7% to $215 per metric ton in the Yuzhny area of Ukraine. Prices in Yuzhny have risen 18% YoY. Next, let's take a look at natural gas prices—the key input for nitrogen fertilizers.