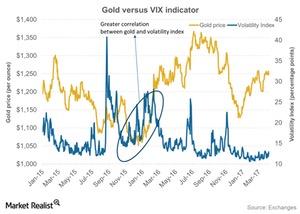 Upcoming French Elections Could Impact Gold
French elections
Since the French elections are right around the corner, investors might start parking their money in safe-haven assets like gold. The first round of France's presidential election will be on April 23. An unpredictable outcome, just like President Trump's victory, could push precious metals. Investors have their eyes glued on the elections.
There's a chance that the French elections could have a positive impact on market volatility, which in turn impacts gold.
Article continues below advertisement
Volatility and gold
Overall market volatility plays closely on precious metals and their safe-haven bids. The relationship between gold and volatility, or VIX, is shown in the above chart. Volatility and gold are expected to walk hand-in-hand, although that doesn't always happen.
Recently, volatility markets (VIXY) (VXX) displayed strange behavior. Volatility has been falling since November 2016. As a result, investors in the volatility market are facing losses. The VIX index fell to a three-year low in January 2017. However, the index slowly recovered as unrest from North Korea gripped the markets.