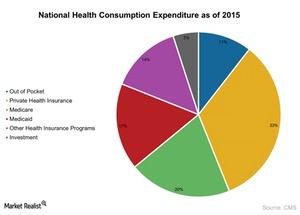 The Hybrid US Healthcare System: An Overview
By Mary Sadler

Updated
Healthcare in America
In a recent interview on Wall Street Week on March 24, 2017, Obamacare architect Dr. Ezekiel Emanuel shared his views on the US healthcare system. Emanuel also shared his views on the proposed auto-enrollment alternative for insurance, and investment opportunities in the healthcare sector.
Emanuel held the post of White House adviser to President Barack Obama in the healthcare sector. He was also a major contributor to the ACA (Affordable Care Act), commonly referred to as Obamacare.
Article continues below advertisement
A hybrid system
The US healthcare system is unique in the developed world because it does not have a uniform system or universal coverage. According to Emanuel, the US healthcare system—before the introduction of the ACA—was inefficient and was focused on treating chronic diseases while not being proactive or helping people take care of their overall health.
According to Emanuel, costs are currently the major concern in the US healthcare system. Healthcare inflation should be in line with the growth in the GDP, but growth in healthcare spending rose to about 5% in 2015—much higher than GDP growth in 2015. Some of the key considerations and challenges of the current US healthcare system, according to Emanuel, include the following:
the alternative payment model, which includes the medical homes like accountable care organizations and bundled payments, shifting focus toward reducing costs and improving quality in healthcare
maintaining overall health, thereby helping bend the cost curve, as the less chronic sickness means lower cost
controlling high drug costs, which are currently about 17%–20% of total healthcare cost
National health spending is projected to increase at an average rate of 5.6% per year between 2016 and 2025 and 4.7% per year on a per-capita basis.
Article continues below advertisement
National health spending as of 2015
The NHE (national health expenditure) rose 5.8% to $3.2 trillion in 2015—$9,990 per person. The NHE accounted for about 17.8% of GDP in 2015. The largest shares of total health spending were sponsored by private health insurance companies, at about 33%, followed by US Medicare and Medicaid programs, at 20% and 17%, respectively.
With this increased spending on healthcare, the opportunities for the healthcare sector is huge. The healthcare sector had the third-largest sector weight in the S&P 500 as of 2016, and ETFs (exchange-traded funds) in the sector are bouncing back after a poor performance in 2016.
Specifically, the pharmaceutical and biotechnology subsectors are expected to benefit from the Trump administration's projected plan to deregulate and lower price controls. The iShares US Pharmaceuticals (IHE) and the SPDR S&P Pharmaceuticals (XPH), for example, have already risen ~7% and ~9%, respectively, in 2017. Both IHE and XPH hold Pfizer (PFE), Merck (MRK), Johnson & Johnson (JNJ), and Eli Lilly (LLY).
We'll discuss Obamacare and its impact on the performance of healthcare sector in greater detail in the next part of this series.