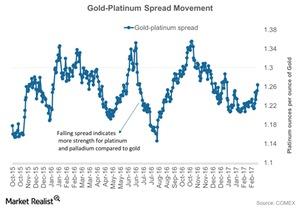 Platinum Is the Worst Performer So Far—Reading Its Spread
By Meera Shawn

Updated
Platinum deficits
Platinum has been witnessing falling prices over the past six years, and the platinum bulls seem to be scarce in markets these days. The rise in yields offered on Treasuries and encouraging US economic data have offered a deterrent to platinum. Unlike palladium, platinum does not have strong backing from industrial demand.
On a YTD (year-to-date) basis, platinum has been the worst-performing precious metal. It has risen only 5.2% so far. However, almost $9 million was invested in the fund during a single week in March. Money managers are, however, reducing their net-long positions more than they have since 2006.
Meanwhile, the US dollar (UUP) continues to be one of the most important determinants of any changes in the price of precious metals. It has also played a crucial role in the fluctuation of platinum-group metals like platinum and palladium.
Article continues below advertisement
Gold-platinum ratio
If we compare the price performances of gold (GLD) and platinum (PPLT) using the gold-platinum ratio, we can see that the prices of gold and platinum were $1,264.20 and $974.80 per ounce, respectively, on April 26, 2017.
The chart above shows the performance of gold compared to platinum through the gold-platinum ratio, also called the gold-platinum spread. The spread measures the number of platinum ounces it takes to buy an ounce of gold. The higher the ratio, the weaker platinum is compared to gold, because more ounces of platinum are needed to buy a single ounce of gold.
RSI levels
The gold-platinum spread was ~1.3 on April 26, 2017. The gold-platinum spread RSI (relative strength index) on that day was 59. Remember, an RSI level above 70 indicates that an asset has been overbought and could fall. An RSI below 30 indicates that an asset has been oversold and could rise.
The precious metal mining companies that have increased in the past month the loss in precious metal also took down mining shares like Aurico Gold (AUQ), Primero Gold (PPP), Eldorado Gold (EGO), and Silver Wheaton (SLW).